A digital marketing agency is a very broad concept, and today, it can combine several options at once. A digital marketing agency can have a website development studio, a web studio, and an Internet marketing studio.
As you know, demand creates supply. The Internet services market is full of different digital agencies, web studios, and full-cycle agencies. But their effectiveness does not always meet the expectations of the customers.
When choosing an agency as a digital partner, you should look for a team that is close to you in spirit and values. Of course, there are many more criteria and things to look at, and we are going to cover them below.
What Does Digital Marketing Cover?
Digital marketing covers everything related to marketing, electronic devices, or the Internet. The number of Internet users is growing every year. For example, over the previous 4 years, the number of users has increased by 5%, according to the Pew Research Center.
It is clear that with the appearance of the Internet, offline commerce has become less effective in comparison with e-commerce, and especially in terms of the global pandemic, that changed our life and shopping habits. The essence of digital marketing is to keep in touch with your audience at the right time and in the right place.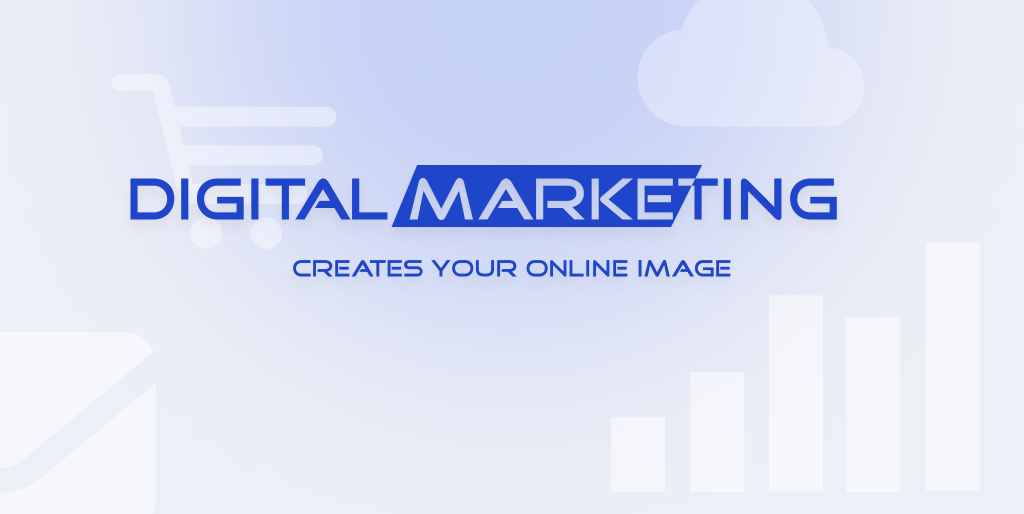 What does a digital marketing agency do and what is the essence of it? An agency can help increase brand awareness and drive more leads.
The marketing strategy team will help you see how customers relate to different brands. It is also important to understand that a full-cycle digital agency and an internet marketing agency may provide different services.
Why You Need to Hire a Digital Marketing Agency
Typically, a modern full-cycle digital agency specializes in corporate identity, graphic design, advertising, and production. What is a full-cycle digital marketing agency?
A full-cycle digital marketing agency offers a full range of advertising services, including placement and production of advertising products, which helps companies to promote on the Internet effectively. With the successful operation of the agency, users will be satisfied with the use of the product or service that the client is promoting.
A full-service digital marketing agency is an agency that works on SEO, PPC, content marketing, and other lead generation strategies. It is worth contacting an online marketing agency if your business needs to increase brand awareness and sales, educate leads, and increase traffic.
A full-cycle digital marketing agency will help you create engaging content based on the interests of your target audience. Agencies like this will also help you optimize and repurpose your existing blog content to drive leads.
Better Results With Lower Budgets
Your collaboration with an agency can last from one month to several years. And if you have chosen a low-efficiency company, it can turn out to be a "drain" of the budget. Why take such a risk when you can use the advice of a professional and choose a digital agency that will give a high-quality result?
Digital marketing provides an optimal opportunity to promote a brand to a wider audience with a relatively lower budget than traditional channels.
It is the most cost-effective marketing channel that delivers results in the shortest possible time. When a company uses email marketing to promote their products, they spend very little reaching millions of users.
There are a lot of agencies on the market, and they are also called differently: an interactive agency, a digital studio, an internet marketing agency, a web agency, a creative agency, a digital advertising agency, and a performance marketing agency.
How can you understand exactly what you need and how to choose a digital marketing agency? Let's figure it out. What is a digital marketing company?
All players in the market can be divided into four categories:
Freelancers
Usually, this is a person who, depending on their competencies, can work on one promotion channel or take on more responsibilities.
Small agency
These are united freelancers. For each new task, they individually select a performer and can be considered as an online marketing firm.
Medium-sized agency with specialization
Such an agency for digital marketing has been working for a long time, has a portfolio of successful cases, and can apply its best practices to promote your business. They have a separate specialist for each task, while the agency can think over a strategy and promote it comprehensively.

This is a good option for different companies and budgets. This digital marketing agency is well versed in the day-to-day work routines. They've already got their hands on evaluating statistics, making adjustments to campaigns, compiling reports, and more.
Market-leading agencies
These can be considered as the best digital marketing agency options. You can hire such an agency if you have a large promotion budget and want to get non-standard creative solutions.
If you choose to work with any kind of agency, it is better to opt for those who are engaged in several promotion channels at once. In internet marketing, one thing always clings to another.
If you have a good advertising campaign but a bad website, it can result in client loss.
A clear and convenient site but the sales managers do not work well, and the client won't buy anything.
Therefore, in a situation where there is a low budget for promotion, it is better to choose an agency that can work comprehensively with several areas.
Team of experts is better than in-house specialists
When the company employs two jacks-of-all-trades, it doesn't end up good. Before signing a contract, get to know the staff who will be working on the project. Find out about their experience and qualifications.
Pay attention to the portfolio. Internet marketing agencies often place a section on their sites with successful projects and achievements in customer promotion. Such information instills confidence in potential customers and allows you to make sure that the agency has successfully worked with companies from your niche.
The presence of successful cases allows you to see the stages and specifics of work, the approach to assigned tasks, and the effectiveness of the chosen strategy. A good portfolio shows the result, and stories about successful cases show the methods for achieving it.
New ideas
More people generate more ideas. There are marketing strategies that have been around for a long time already and they work and give results. But what if you tried several or even all strategy options and none of them has worked out for you?

It's time to allow your newly hired team to let their creativity fly. A professional digital marketing agency will give you new ideas and creative solutions for strategies and brand promotion.
You have time to focus on your business
If you hire a team of digital marketing professionals, it will give you more time to improve your business. The thing is that agency experts will take on the full process of strategy development and implementation so you can just focus on your business without worrying about promotion and advertising online.

However, you should also make sure that the agency gives you reports on time so you can track success.
Your contractor should generate for you monthly, or better weekly detailed reports on the work done with information about the list of activities carried out, traffic changes, conversion and other significant indicators, achievement of the set goals, etc. And also provide a work plan for the next reporting period.

Detailed reporting will help you compare the results after certain activities with the results of previous periods.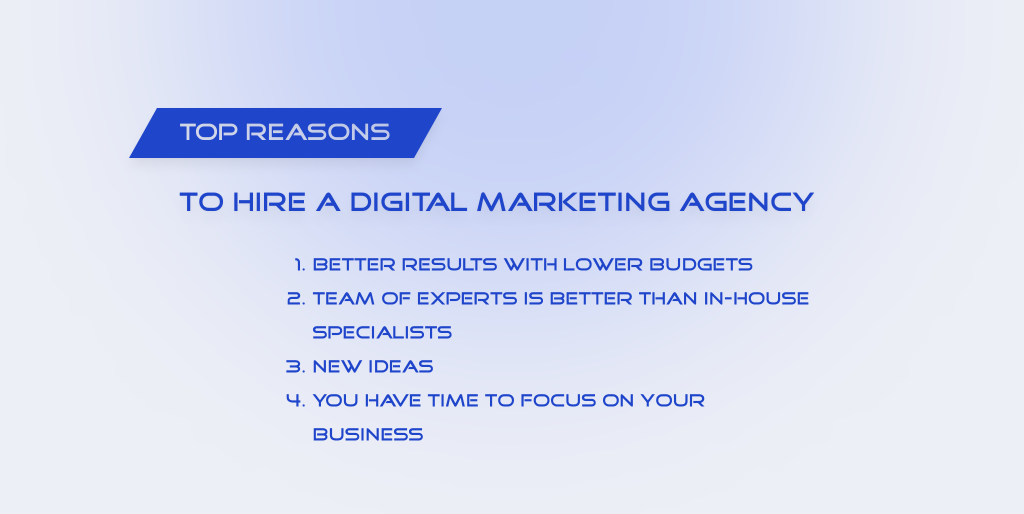 Enjoy the Results
How to find the right internet marketing company for you? Choosing an Internet agency is a responsible task, and you need to start solving it by setting goals for contacting the contractor and analyzing information about them.

Digital marketing is the future of business. No sector can survive or compete in the marketplace without an appropriate digital marketing strategy.

Organizations that understand this essence of business will outstrip their nearest competitors in the market. Many success stories are growing rapidly just because of their online presence.