If you want to reach the top of search engines, you need to create quality content. And its uniqueness is one of the main criteria to achieve this goal.
Plagiarism or duplicated content means copying and using another person's information without indicating its author. If you add someone else's text to your article without the permission of this person, for example, it is formally considered theft. In addition, duplicated content will decrease your page rank and influence the position of your website badly. A published text that has a low level of uniqueness also leads to being blacklisted by Google and, as a result, ruins your website promotion.
So, if you hired a copywriter and still want to make sure that your content suits the requirements, you will probably think about "What websites should I use to check plagiarism?"
The list of top 10 free plagiarism checker tools
In fact, there are many more tools, but we have selected the most popular and effective ones for you. 
Copyleaks
Copyleaks is one of the most popular and best online plagiarism checkers, which helps authors write unique and quality texts. The program helps to detect plagiarism using artificial intelligence and machine learning. Once the analysis is complete, you will be able to view the results. If the text is original, you will see the "Unique" status. If the sentence is copied, you will see "Plagiarism" status.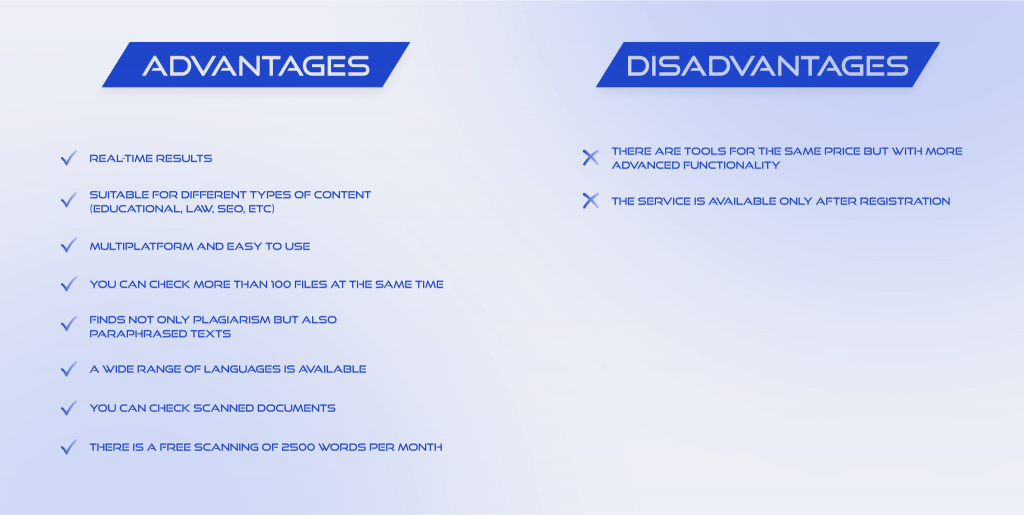 Try this service to make sure your content is unique. It has many other benefits that you will learn about if you test it yourself. There are two different pricing plans for academies and education, and also for business enterprises. 
Plagiarisma
It is among the best plagiarism checker tools and is considered an effective way to find duplicated text on the Internet. The tool supports over 190 languages ​​and uses a URL to validate content. Multilingualism can legally be considered one of its main advantages. If this is an important criterion for you, then test this service first.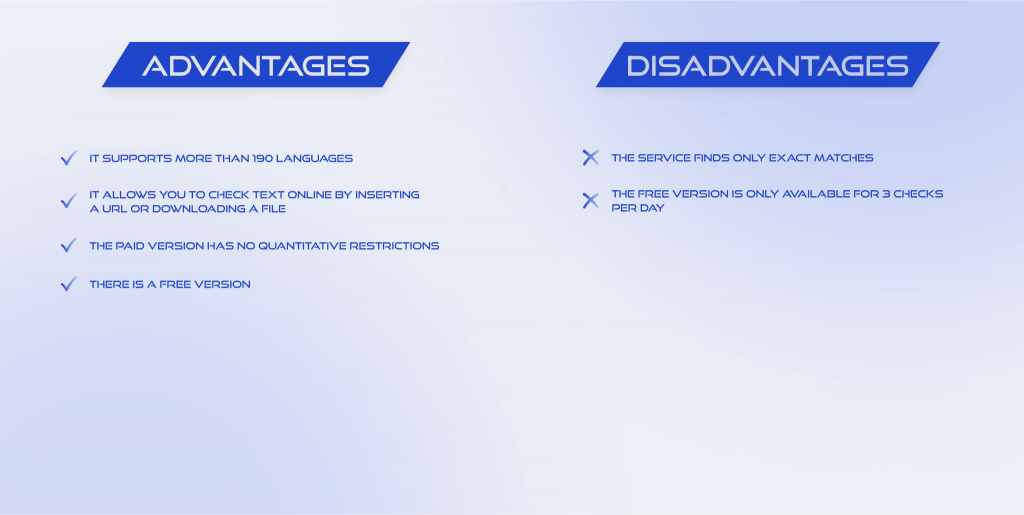 Plagium
Plagium is a free service for checking texts for plagiarism with advanced paid functionality. If you are looking for an easy-to-use service, then check out this program. This service allows you to check text in 4 languages: English, French, Spanish and Portuguese.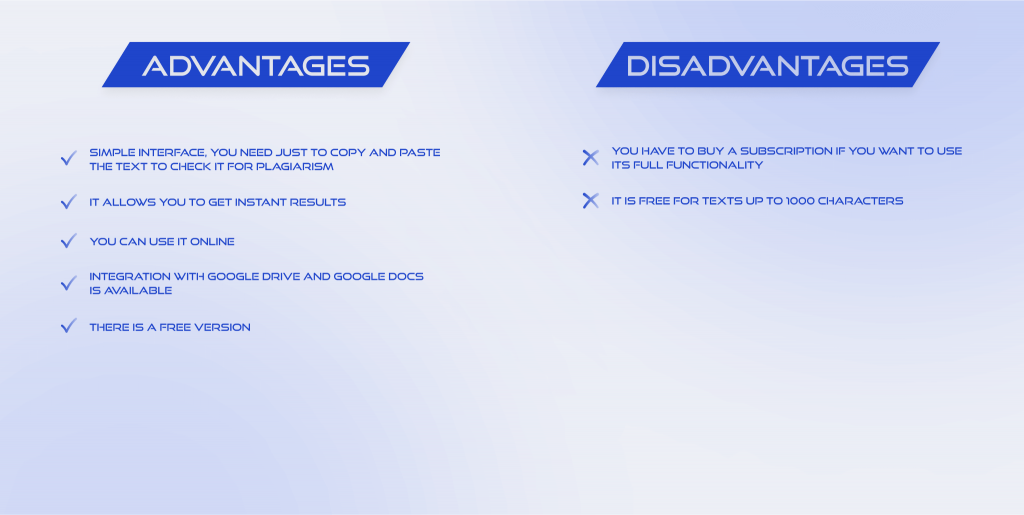 CopyScape
Are you looking for the best free plagiarism checker? You should definitely take a look at this tool. CopyScape helps to check the uniqueness of content using a link. This is a popular program for bloggers and website owners who want to know if there are copies of their work on the Internet. The service also has different additional features. For example, you can use it to monitor the theft of your content. If someone uses your information on the Internet, the system will alert you of a violation.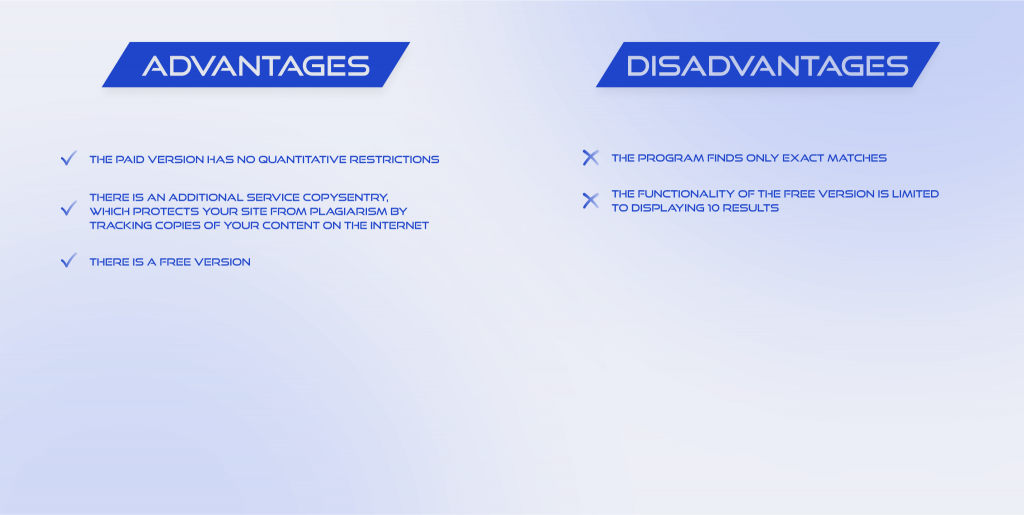 Siteliner
Talking about the best website to check plagiarism, we have to mention the Siteliner. This tool was created by CopyScape, a free service for analyzing your website. The service helps to identify key issues, check content uniqueness, determine search engine rank and get a verification report.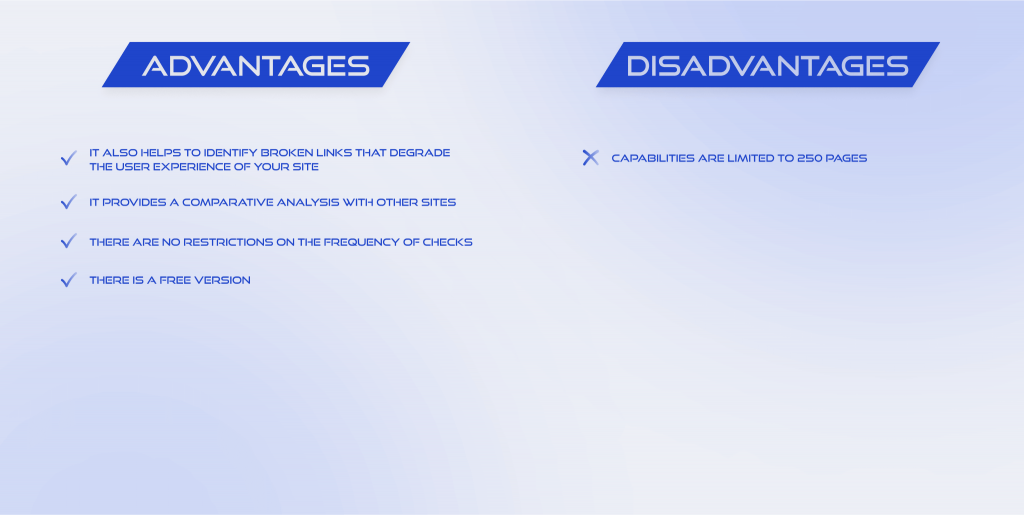 Grammarly
Among the websites to check plagiarism, Grammarly represents a comprehensive solution that allows you to check not only the originality of the content but also to identify grammatical and spelling mistakes in the text.
This tool deserves its place in the top ten plagiarism checker tools due to its reliability and versatility. The program can be used online, downloaded to a computer, tablet or laptop. You can also download the app for Android and iOS to check grammar and punctuation from your mobile phone.
Plagiarism Detector
Plagiarism Detector is software to check plagiarism online. The service also allows you to check the text for grammar and download the report of the audit. The program is easy to use, works quickly, and gives you an accurate result. This tool is suitable for those who want to check the text not only for plagiarism but also for grammar.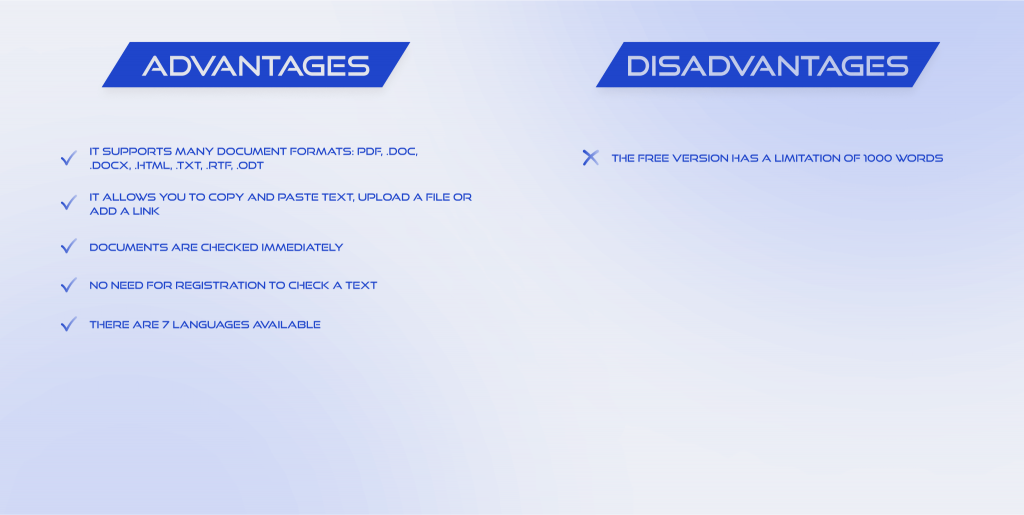 PaperRater
PaperRater is one of the most effective services for checking plagiarism and grammar, which is why some content creators consider it the best site to check plagiarism.
This platform is powered by artificial intelligence and provides instant text analysis. All verification takes place in real time. The program has advanced functionality and helps to correct grammatical and spelling errors in the text. It also provides a complete analysis of content in terms of vocabulary, style, word choice and spelling.
One of the main advantages of this tool is that you do not need to download and enter your data. Great for those who value the privacy of their data.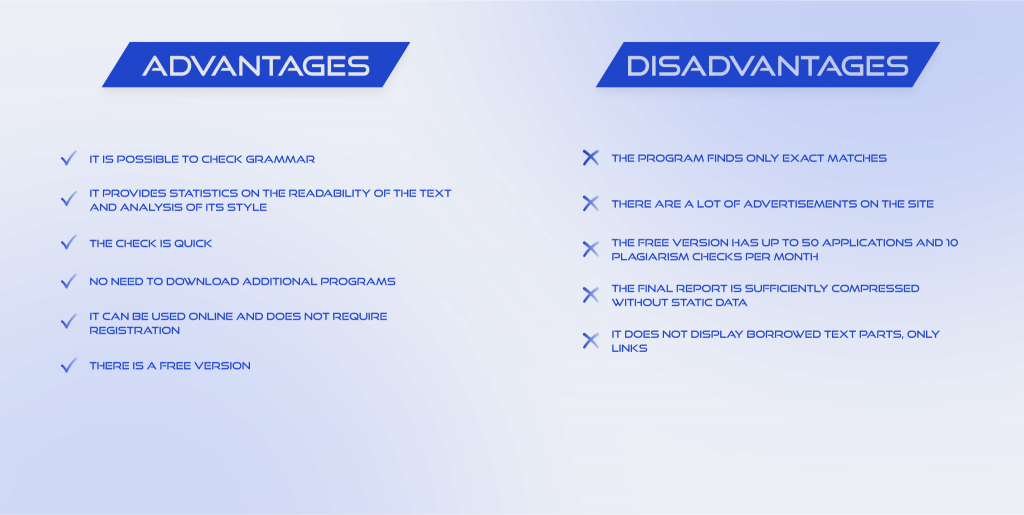 PaperRater got to our top-rated plagiarism checker tools for its versatility. This is a popular service for checking text for originality, which also provides full text analysis. 
Dupli Checker
Dupli Checker is included in the top 10 free plagiarism checker tools and is considered one of the best plagiarism checker services. The site contains many tips and recommendations on plagiarism and content creation. The service scans the Internet to find links to texts with duplicated phrases, sentences, paragraphs.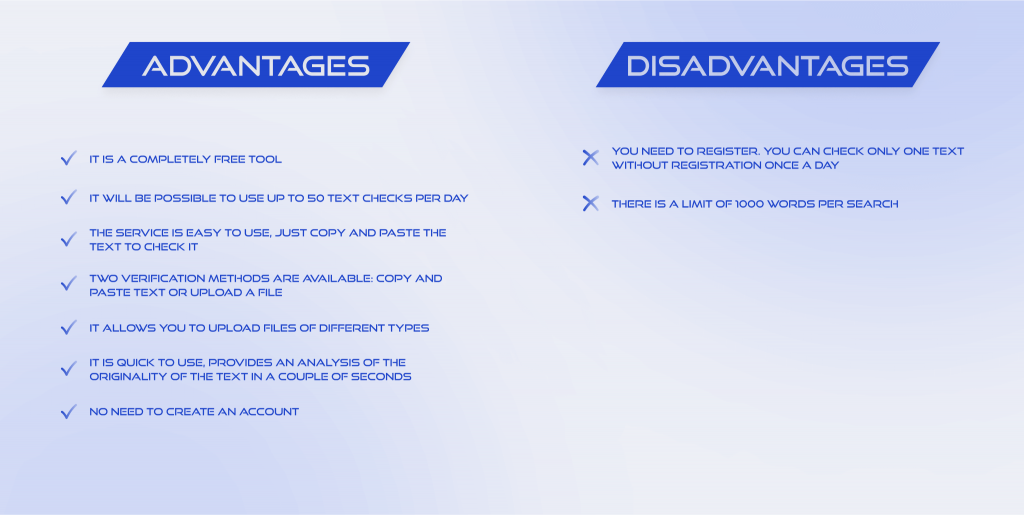 This online program also has a number of additional features that will help you to write good texts. You can use this tool to check for plagiarism, find keywords or check grammar. 
PlagScan
Last but not the least is a checker tool by PlagScan. It is easy and fast, and it doesn't require to be downloaded.
PlagScan is an online service for analyzing text for plagiarism. The program provides verification reports that can be viewed online or downloaded in PDF file format.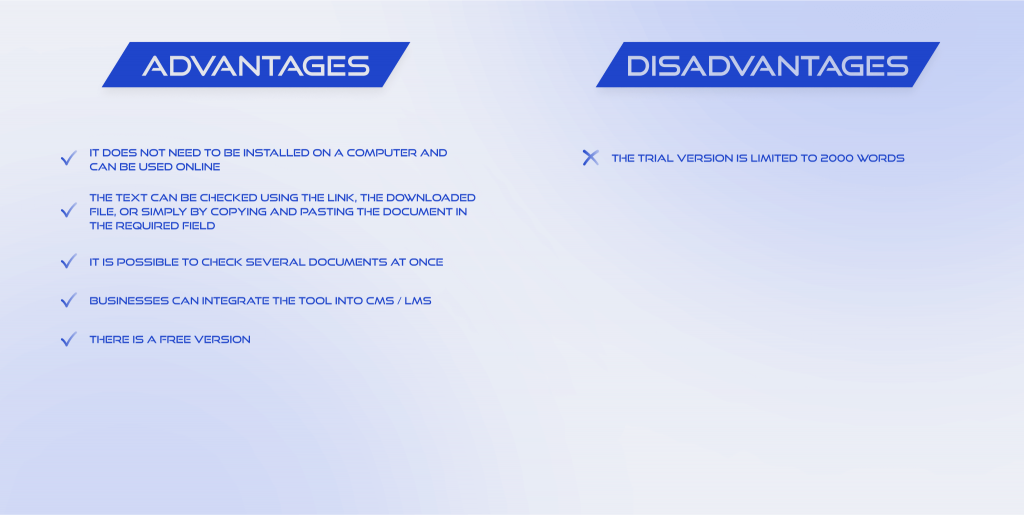 Summing It Up
How can you choose the right tool? Ask yourself what is important to you right now, what features are you going to use? Perhaps, you only need to check the text for plagiarism? Or is it important for you to conduct a comprehensive analysis of the text?
Please note that not all tools support multiple languages. For example, the Grammarly service allows you to check the literacy of only texts in English.
Use these tools to protect yourself from plagiarism and increase customer engagement with quality texts. Unique content will help you achieve better SEO results and increase traffic to your website. 
Read our article that tells How to Write Engaging eCommerce Texts in 2021.