Every website needs maintenance. In fact, some people think that it's enough to get a site and just use it. This eventually leads to the inaction of the website, client loss, and financial loss. Who is responsible for your website support and maintenance? Why is it important to maintain a website in eCommerce? Below, we pointed out all of the advantages of website maintenance for your business.
What is Website Maintenance?
Before you decide to hire a webmaster or a digital agency to take care of your website, you need to find out what website maintenance is and why every online business owner needs it.
Today, a website is an essential element of any business. When a user finds your website on Google and visits it, they can become your potential customers if their query was satisfied by your resource. Usually, it takes 3-5 seconds for a person to decide whether they like your website or not. So, as a site owner, you have to keep it updated and make sure it doesn't have any technical or content issues.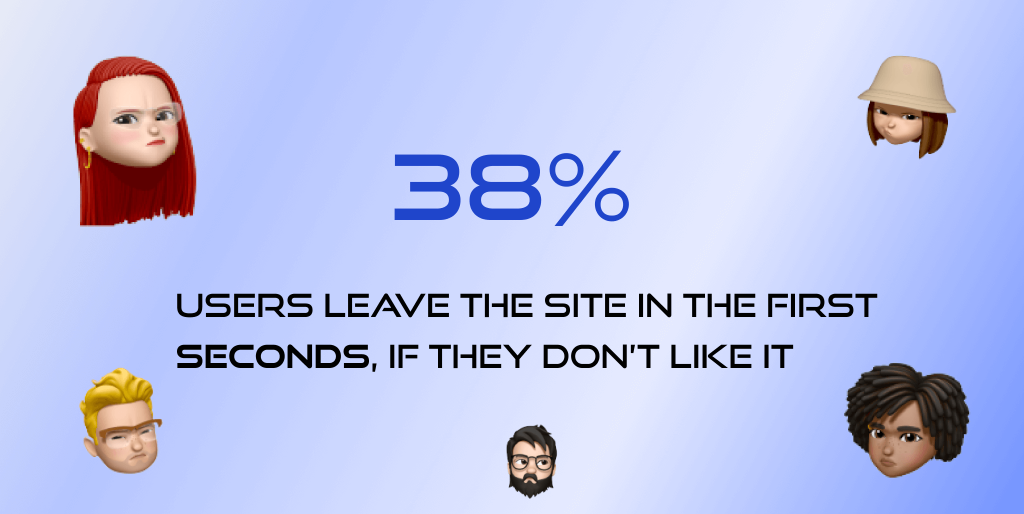 Development and maintenance of web pages is an important part of optimization that contributes to your SEO and conversion. For example, you can have a great variety of products or offer amazing deals, but if your site loads slowly or has an outdated design, it will make you lose a lot of money.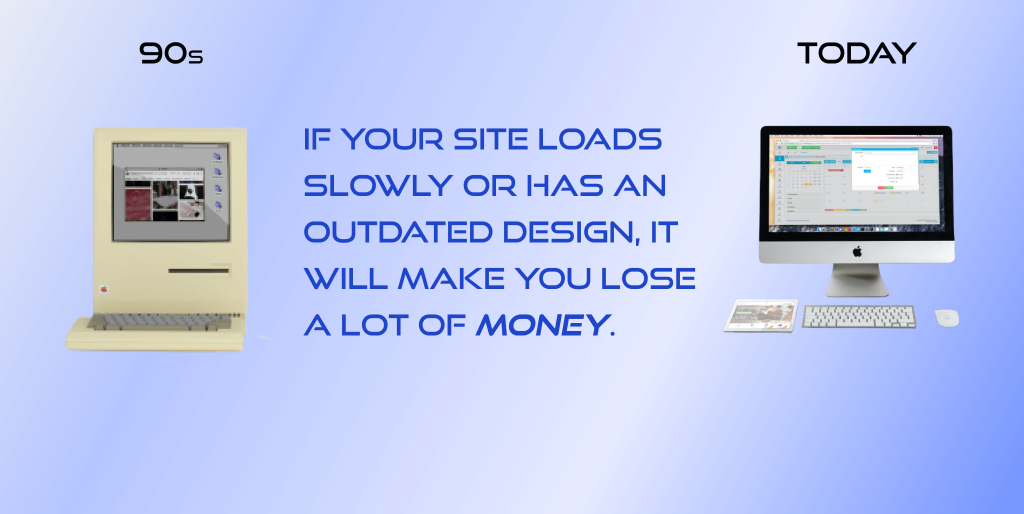 Maintenance or site support is a set of tasks that allow your website to stay up to date and avoid technical issues or errors. Large companies usually choose web studios for technical support that have proven themselves in the market. They have a reputation, references, and guarantees enshrined in a contract for the provision of services. As for freelancers, it all depends on the positioning of the specialist and his recognition in the digital world.
Why is a website maintenance plan important?
Owners of business card sites and medium-sized corporate portals rarely need advanced technical support services. Some companies do not monitor the performance of the resource at all. They may learn about problems from customers who call and complain that they can't read product descriptions or read reviews.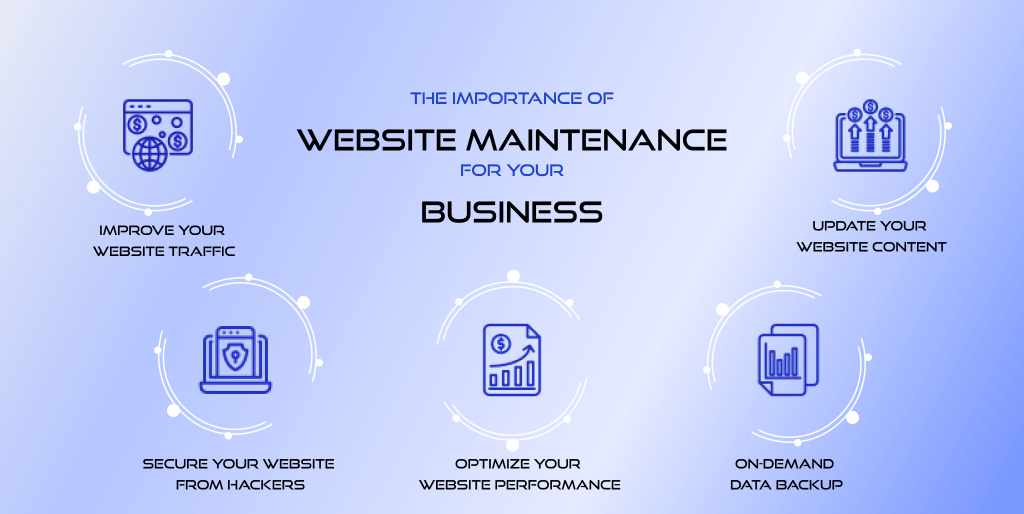 Commercial companies need to understand that if the site is part of the sales funnel, it needs to be monitored around the clock. Releasing an eCommerce website without the maintenance plan would be like leaving a physical store unlocked for a night.
Monitoring the site will help to protect it against critical problems. If there are problems with hosting or the domain is disabled due to non-payment, the project owner will not even know about it. The technical support specialist will contact the hosting provider or renew the domain in the registrar panel.
A developer who constantly monitors the site is like a guardian angel. It's in their interest to fix the problem as quickly as possible. If they fail to solve the problem and the customers or the reputation of the company suffer from this, they may lose their job easily.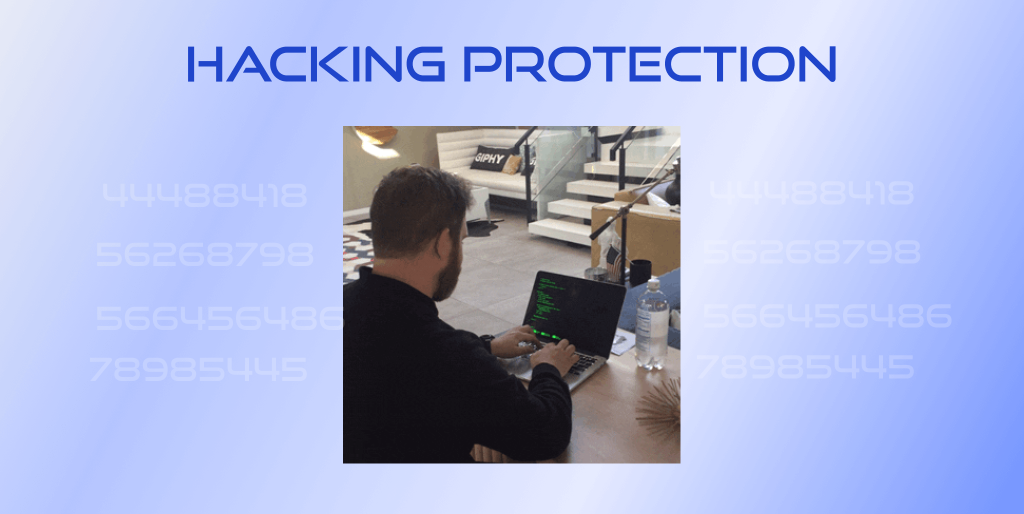 Another important problem that constant technical support solves is hacking protection. Statistics say that website attacks happen every 39 seconds. The company's website may also be on the list of hackers. Especially if it is developed on popular content management systems or self-written CMS without hacking protection.
List of Services Included in Website Maintenance
Uptime monitoring
Imagine that you are looking for a specific product or service. In a search engine, you find a company and are ready to take advantage of the offer, but once you go to the site, you find that it does not work. The next step is to close the page and find an available resource. This is exactly what users of your site will do.
In order not to lose customers and not suffer losses, it is important to regularly monitor your site's uptime and check its performance and correct functioning.
Web server administration
If the site or several sites are hosted on a rented server, you must constantly monitor the performance of the equipment and promptly make changes to the configuration.
Creation and support of backup infrastructure
Large projects cannot rely only on the hosting provider. For instance, if there's a serious accident, a spare server will save the day. Additional expenses will fully pay for themselves with a stable flow of orders, which even hosting problems cannot affect.
Backup storage
Backups are saved in critical situations when performance problems arise or a virus is detected. For large sites, you will need a separate storage, which also requires attention and service.
File integrity control
Hackers most often integrate malicious code into the file system or database. The technical specialist will receive a notification of suspicious activity and will be able to quickly protect the site from intruders.
Hosting and domain renewal
Some hosting providers and domain name registrars send service renewal notices, but these are often lost in the flood of promotional messages. Not all business owners have time to correspond with the hosting support service.
SEO performance
It is always worth remembering that there are only 10 places on the first page of search results and in order to reach the top, you need to work hard on your virtual business platform. Competitors never sleep, and it is important to understand that they are also developing, they want to get the best place, and thereby move competitors from Olympus.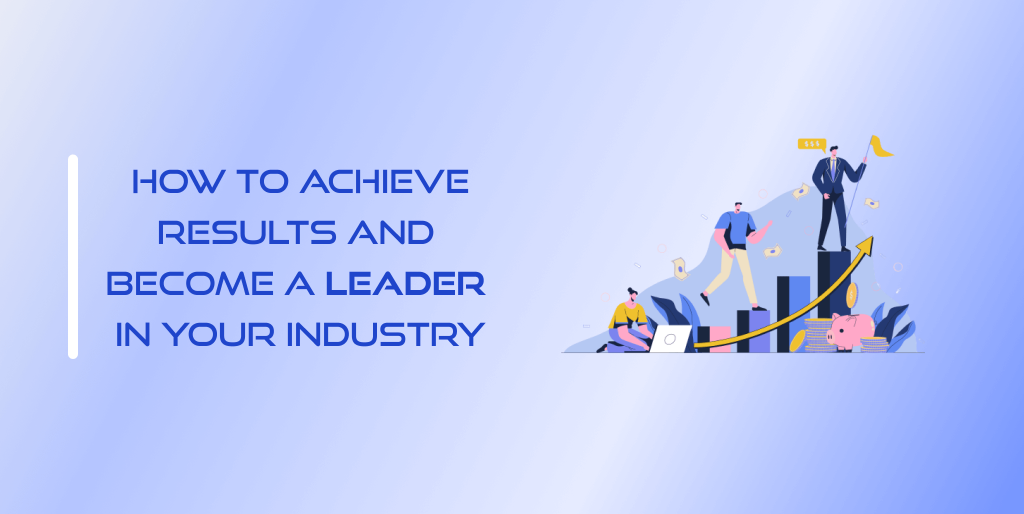 To achieve results and become a leader in your industry, you need to update the content, but this is not about simply filling the site with text. Not everyone can write interesting, useful material for the reader, which will also be unique. Why should the text be not only unique but also interesting? Search engines, by virtue of updating their algorithms and striving for fair and competitive relations with other users of virtual sites on the Internet, respond to people's behavior and the frequency of visiting sites. Behavioral factors, along with link ranking, help to quickly and cost-effectively bypass competing companies in search results and become number one.
Who Should Perform the Site's Maintenance?
Many site owners believe that it is best to put a technical specialist in the office so that you can always control their work. But considering the number of tasks that should be implemented for a site's proper functioning, one specialist won't be enough. It is better to hire a team or an agency that will take care of your site's performance.
A full-time specialist who will be in the office all day expects a good salary. The services of a freelancer providing technical support services remotely will cost you much cheaper. The exact amount depends on the time spent and the complexity of the tasks.
Summing It Up
When site updates are rare, search engines quickly lose interest in it, and this leads to long-term indexing and a significant downgrade of the resource rating. But as a website owner, you can fix it by hiring specialists for website maintenance. Taking care of your business and e-commerce site is important since:
Your site will be constantly updated
You won't experience client loss and bad conversion
You will always stay on top of search engine
You won't lose the money you invested in creating and developing this site
So, if you still haven't arranged the website maintenance plan, it's time to do it and hire some professionals to get the best result possible.