Your business needs a website or online store. You hesitate to choose a ready-made solution or customized software because the first option will cost you less. But what if it negatively affects your sales or perception of your brand?
In this article, we will analyze in which cases it is better to use a custom product and when you can limit yourself to a simple website builder. We will examine the pros and cons of a tailor-made solution and figure out what to choose in your case.
What is Custom Software?
Custom development of a website, online store, or application means creating a personalized product based on the requests, needs, and goals of the company. A whole team usually works on a project. It may consist of a designer, programmers, copywriter, manager, and other specialists depending on the size and complexity of the project.
If you need an application or website with specific features, for example, you want visitors to have a personal account or integrate payment tools. Personalized software helps to meet the individual needs of the brand.
The main advantages
Using customized programs, you can add new features or extend old ones, constantly improving your web resources and services. What other advantages to making a choice in favor of this solution:
1. Get everything you need
If you use ready-made solutions, you will have to adapt your needs to what they offer. Custom development allows you to choose which functions to add. You create a product from scratch and can modify and improve it as you like.
2. Stand out from your competitors
If you want users to remember your company, you need a unique website. It should reflect the values ​​and original style of your brand. You can make such a design only using custom development.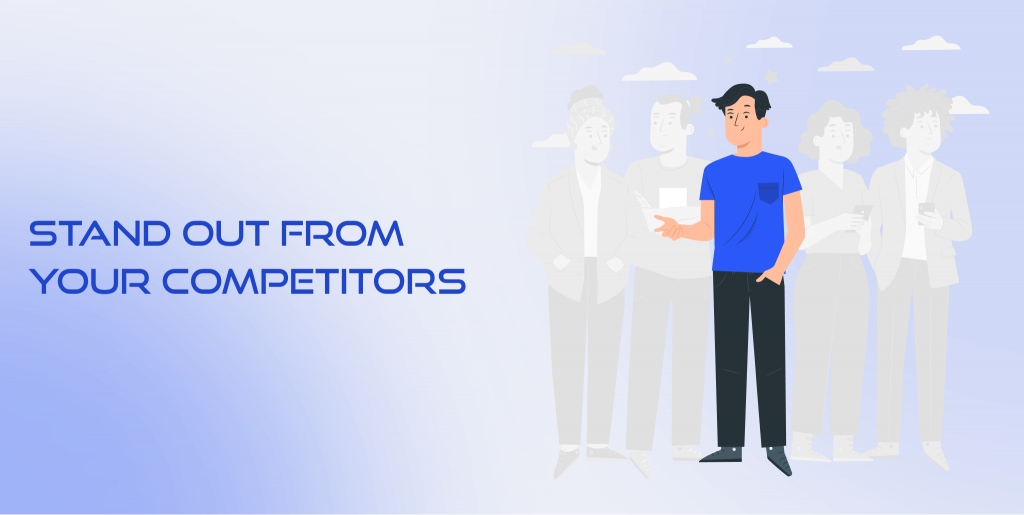 To understand why web design is important, read our article. Remember that someday you will need to optimize it. How long can it stay relevant, and why should you redesign it? You can learn here.
3. Scale your business
If you plan to grow your company and scale up your business in the future, you need a solution that you can scale over time. Custom products are flexible. You can change and expand them.
The main thing is to select a team of qualified programmers who will create a product adapted to the expansion of requirements and the increase in the volume of tasks.
4. Reduce support costs
Firstly, you will have to invest in development. But you can save on its support. If you use off-the-shelf software, you may need to regularly renew your license or buy new off-the-shelf products. You have to pay for extra features that your employees won't use.
A personalized development requires to slow down but helps you win in the long run. Then you need to invest if you want to expand your service, change, or improve something.
5. Link your project to other tools
Do you think of connecting a CRM system, payment service, or project management tool to your site? You should definitely choose custom software that will allow you to integrate other programs with your web resource. It is more flexible and helps you make the integrations important for your company's success.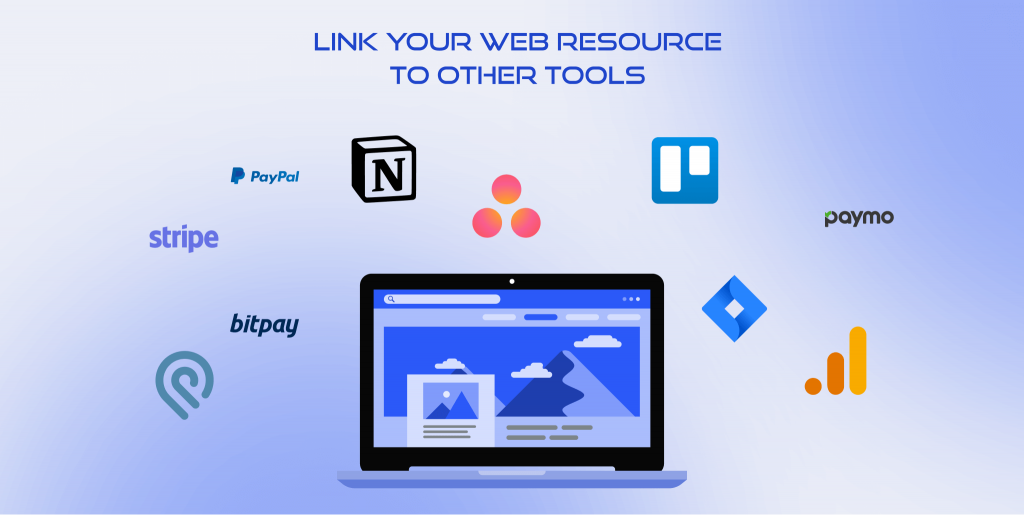 6. Provide strong protection
Custom development is more reliable. Programmers use security technologies with a high degree of protection. If you have an online store, financial service, or any other business that stores the customers' personal information, you should ensure the security and integrity of their data.
Personalized solutions allow you to assess possible risks and solve the problems they cause. A technician will test the software to make sure it is secure. Such an individual approach is possible only for custom products.
The main disadvantages
To understand whether this option is right for you, carefully study the shortcomings and the main nuances you may encounter.
1. Invest more time and money
You need more financial investment to get an original product that reaches your company's goals. Since such software requires the participation of an entire team and takes a month of development, it increases the budget.]
2. Find a reliable team
You need to find specialists who will implement your ideas, consider your customers' wishes, and develop scalable code. And it is the most important task because the quality of their work affects your relationship with clients and the project's growth in the future. How to choose a team of professionals?
Explore their case studies or portfolios. Have they already done projects similar to yours? Pay attention to the style of their work. Do you want your website or online store to be designed the same way? It is important to know if they have faced the challenges you have and how they have dealt with them.
View the web resources of their clients. Does the site load quickly? Perform different actions on the site to check how it works.
Evaluate the company's website if you apply to the agency. A web resource is a business card for any IT organization. You can get a lot of insights about brand values ​​and service quality by analyzing their website. You should not trust a company that uses an outdated design, does not care about the users' convenience, or does not correct functionality errors on time.
If you have not decided who is better to choose: a freelancer or an agency, read our article here.
Why should e-commerce use customized software?
Does your brand need to opt for personalized Internet commerce? You can use the constructors to develop a small blog or business card site. But what about an online store? We have analyzed the main reasons that explain why you should choose a tailor-made approach.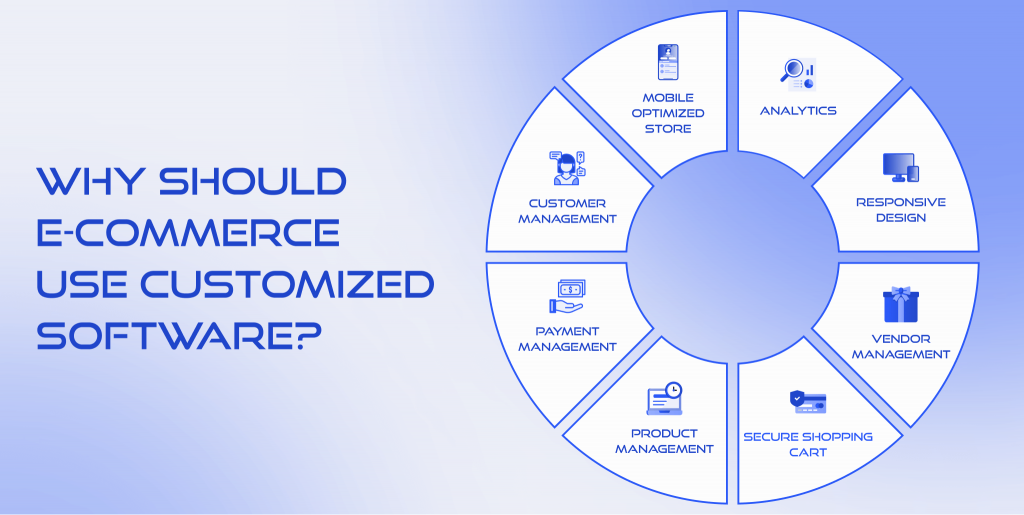 Add an unlimited number of products. If you use constructors, you will have to pay for this feature each time.
Use an unlimited number of payment methods. Custom solutions allow you to select the payment systems that your clients prefer.
Make an original design that will distinguish the store from competitors. Ready-made tools have a limited number of templates that look standard.
Decrease the expense of monthly fees that the constructors often require.
It is the only solution for large stores. If you have a lot of goods, you need to develop an e-commerce platform.
Allow buyers to quickly load site pages. This indicator is important for sales.
The difference between Custom Software vs Off-the-shelf. What to choose?
If you need a quick solution and a minimal set of features, a website builder is enough. You can create a website within a few hours. But this option will definitely not suit you if you need a comprehensive platform. Their functionality is quite limited and can perform only simple functions.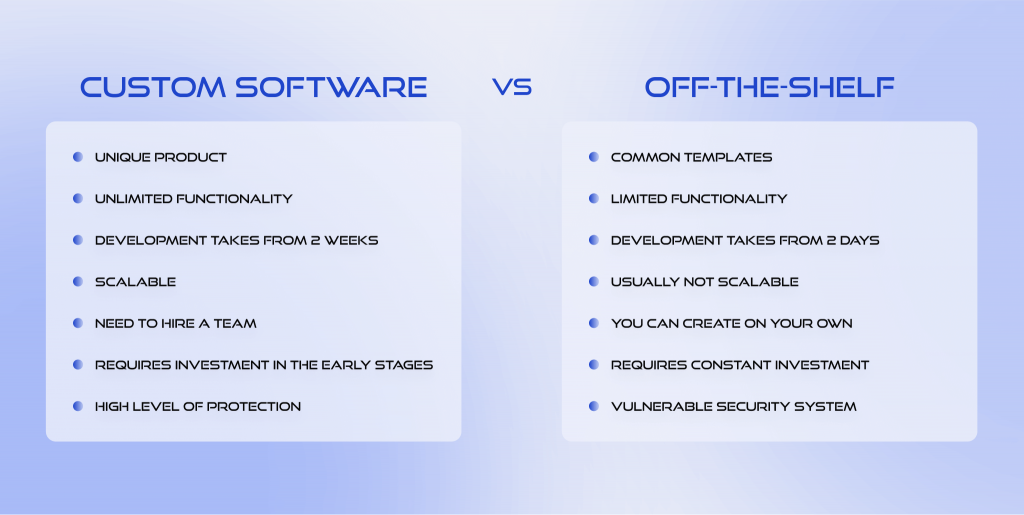 Constructors do not require technical skills. You can do everything yourself. Many tutorials detail how to develop your website. To create a custom solution, you need to have experience in design and programming. You will have to look for a quality team that implements your project. In this way, you can entrust the work to professionals and focus on business tasks instead of learning website builders.
A full-fledged development will cost more because it requires the participation of several specialists. But you do not have to pay a license or other additional fees.
You can't change the product as you want. It forces you to use the functions that your company does not need.
Website builders have low page loads. If you are selling services or products, it may reduce the number of sales. In addition, people are less likely to trust companies whose sites load slowly.
Summing it up
Custom software allows you to create a unique product. You can add any functionality that is technically possible. You are not limited to the templates the constructor offers. Create an original design that will make you stand out from your competitors.
If you plan to grow your business over time, you need a solution that you can scale. Integrating third-party tools is also easier with custom development.
You will reduce costs in the long run, but in the early stages, you will have to invest more money than if you buy a ready-made solution. In addition, full-fledged development will take you more time.
If you want to protect your customers' data, you should use trusted products. Website builders have a low degree of security.
Choose custom development to create e-commerce. Otherwise, you will constantly have to pay monthly fees, buy additional features and increase the cost of maintaining the platform in case of the range expansion.
Contact us to find out how much a custom solution will cost you.