Users want to pay for their purchases easily, quickly, and securely. If you sell services or products online, you need to choose the optimal payment system. Connecting this function, you simplify the process of financial interaction with clients and attract additional audience. It's an important issue to consider, because a wrong choice of a payment gateway can lead to the loss of clients. If they feel insecure or have difficulties with the payment process, they may leave. To avoid such problems, let's see which solution can become the best for you.
How do payment gateways work?
If you have an online store already or you are going to create one, you will have to use online payment platforms. They allow you to receive money directly from your clients. If you own a physical store, a payment system can help you attract more shoppers and increase sales by providing products and services online.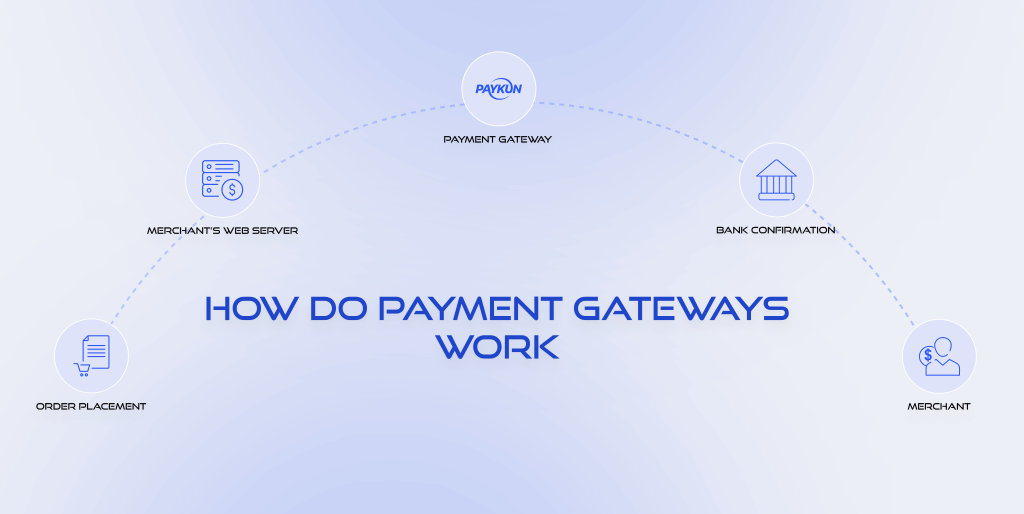 The most popular payment gateways have similar functionality. But many offer customized services and tools. How do they work?
The user confirms the order and authorizes providing information about the bank card.
The payment system service sends encrypted data to the company that provided the card.
They verify the transaction.
The bank confirms or declines the payment.
The system changes the status of the operation to "authorized" if the check was successful.
The bank receives the money and transfers the funds to your account.
The payment gateway acts as an intermediary between the buyer and the company that processes the transactions.
5 top payment services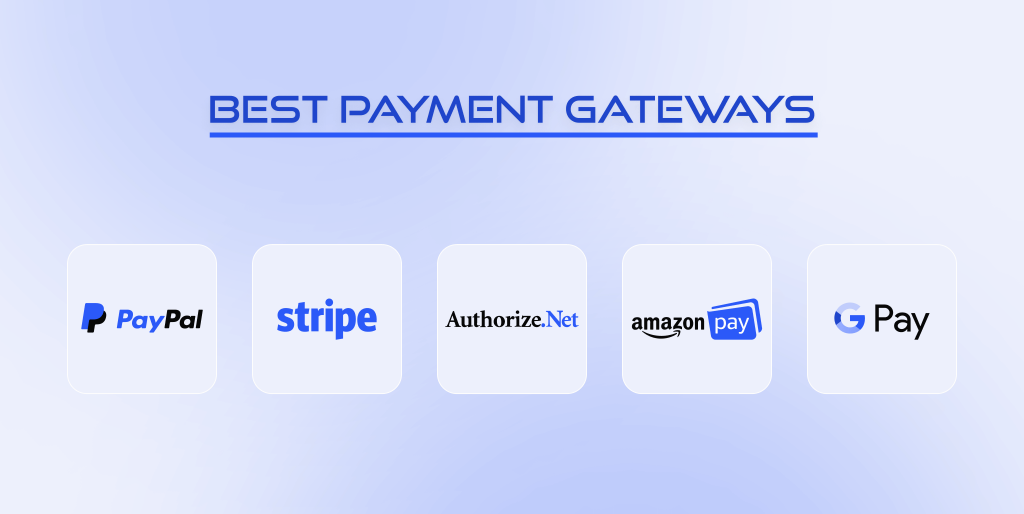 PayPal
It is one of the most popular payment gateways. Almost 400 million people trust this service. Users and businesses like it because it is simple and safe.
Features
Accepts payments.
Allows you to pay for the services of suppliers.
Protects against fraud.
Provides analytics tools.
Helps to resolve disputes with customers.
Advantages
Attract more customers
Millions of people use it as a mobile wallet in more than 200 countries. According to Statista, 7% of users abandon checkout because they do not find enough payment methods.
Accepts 25 world currencies
If you have an international company, you could accept payments in the appropriate currency. This way, you will reduce conversion costs.
Ensures high security
PayPal is safe for shoppers and stores. You do not need to store the card details of the users because they pay through the PayPal application. You risk less if someone hacks you.
Fraud protection offers the refund of money and fees to commerce. In addition, the company uses advanced technologies to predict and prevent fraudulent threats.
Gives guarantees
The service protects people from scammers and unscrupulous sellers. If the salesman tries to cheat the customer, they will get their money back. Therefore, they trust more stores that provide this payment method.
Offer analytics instruments
You can manage transactions, view information about your clients, track packages, and many more.
Facilitates the withdrawal of money
Pay easily for the services and transfer funds to your bank account for free.
Stripe
It is one of the leaders in this niche. Its clients are Google, Uber, Microsoft, and other well-known companies.
Features
Has dynamic 3D Secure.
Sends invoices.
Unifies online and offline sales in one place.
Allows integrating its system in your web or mobile applications.
Creates customized email receipts.
Offers mobile card readers for accepting payments.
Optimize e-commerce checkout.
Manage subscriptions and invoicing.
Supports 135+ currencies.
Advantages
Provides high security level
The platform meets industry certification standards.
Operates in 120 countries
If you decide to scale your business and open offices in other countries, you do not have to change payment gateway providers.
Prevent frauds
Stripe Radar analyzes every transaction and detects suspicious accounts. Their partnership with leading banks helps to determine fraudulent actions in advance. You feel safe using this online payment platform.
Centralize your payment system
If you have an online and offline store, the service allows you to unify your business. You have all the necessary data about your sales in one place.
Get personalized services
Stripe offers customized tools. You design your own payment forms using Stripe Elements. It helps you to save the identity of your brand that matches the UI of the website.
Decrease the checkout abandonment
Popular payment gateway supports 18 methods, for example, Google Pay, Apple Pay, cards, Alipay, and others. Remember that many people abandon the cart because they cannot find their favorite payment method. If you want to lose the clients who find it important, think about this advantage.
It collects the information about the client and has an auto-complete function. The customer can finish the checkout process faster and easier, so you have more chances to make them buy something.
Authorize.net
It accepts credit cards, contactless payments, and eChecks.
Features
Offers customized fraud protection tools.
Processes electronic checks.
Delivers customer support 24-hour-a-day with real people.
Allows you to accept money from a mobile device.
Automatically carries out repeated payments.
Uploads the reports.
Integrates with Quickbooks.
Add the Buy Now or Donate button.
Advantages
Detect frauds
The system provides a tool with 13 filters that help prevent suspicious transactions.
Optimize the checkout
It saves the client information to facilitate future purchases. They can automatically complete the necessary data.
Manage client's data safely
You do not have to store confidential financial information of your shoppers. It helps to save everything on the secured services.
This digital payment gateway has strong client support. They help you to meet all the security requirements for financial transactions. You can use all the necessary instructions and recommendations on the site. You have a library of videos, articles, and case studies.
Control accesses
You can create several accounts and limit the set of permissions for each of them. It is useful when you do not want an employee to access all the information.
Improve reputation
The service gives you a Verified Merchant sign that you can place on your site to enforce customer credibility.
Amazon Pay
It is one of the most popular website payment solutions. Amazon operates in Japan, the USA, the European Union, and Great Britain. You need to live in one of these countries and have a bank account there.
Features
Provides fraud prevention.
Offers technical support.
Helps to shop using Alexa.
Supports online donations.
Allows realizing regular payments.
Manage reports.
Advantages
Reduce cart abandonment
Many consumers do not like to create an account when they buy products online. It is the reason why they can leave your store without a purchase. Amazon helps to pay in a few clicks.
Make buyers trust your brand
The customers feel safe to purchase on your website even if they do not trust you. They know that they can get the reimbursement or cancel the order if the merchant does not respect the terms of the deal.
Accept voice orders
Amazon Pay shows you how to implement the voice service in e-commerce. This innovation helps you to increase sales. Thanks to Alexa, the searching process for the products is faster and easier.
Google Pay
It is one of the most popular payment gateways that allow you to shop in online and offline commerce.
Features
Encrypts user data.
Permits contactless payments using the phone.
Provides location detection of users.
Advantages
Guarantee safety
It is one of the safest payment platforms in the world. It does not share with you the credit card information of your customers. And you are protected from financial data problems.
Make instant payments
The shopping process should be as fast as possible for the consumer. Users do not like filling in long forms. That's why they prefer solutions like Google Pay and Apple Pay. Save their time on entering card details and help them make a purchase faster. If you have an offline store, you can help them buy something without using a credit card or cash.
Increase sales
Many people buy products using their smartphones. If you want them to be satisfied with your online payment options, give them simple solutions that they prefer. Google Pay is an easy and safe way to pay your purchases using an Android device and Chrome browser.
Reduce commission charges
You do not have to pay any fees for using the service.
Avoid common mistakes
1. You do not find out when you receive your funds
Some services do not transfer money immediately but in a few days. If you need to settle accounts with suppliers daily or your business requires constant investments, such conditions can become a problem for you.
2. You don't put safety first
Some entrepreneurs prefer to reduce costs and choose the cheapest solutions, which may not be the safest. But this way you will only lose the trust of your clients. Every day more and more people become victims of internet scams. It is your responsibility to save them from potential risks using a gateway with reliable anti-fraud protection.
3. You didn't read the terms of technical support and settings
Look out for platforms that offer 24/7 support. You never know when you will need help. Understand who will handle all the settings. If the tool is complex and you have to figure it out yourself, you should look for something simpler.
4. You don't count all the costs
It seems to you that you have chosen the option that offers you the lowest commission. But is it the most beneficial for you? Check for hidden fees. Many factors affect how much you have to pay: payment method, card type, setup, country, etc. These nuances can significantly increase the costs you have anticipated.
How to choose your payment solution
You can choose one of the services mentioned in this article or analyze other tools on your own. A few tips to help you make the right choice:
Check the security conditions. They must operate following the PCI DSS standard.
If you have an international company, explore deeper the tools that process different currencies and work in the countries you need.
Take care of the user experience. Your customers should feel comfortable when they buy. Choose the option that is the simplest for them if you want them to thank you with paid purchases.
Compare the pricing of different platforms. Perhaps you cannot use some solutions due to the financial side.
Conclusion
If you choose the best payment gateway for your website, you will simplify your work with finances and improve the quality of your service. Pay attention to their simplicity, the popularity of the system, as well as to the level of its security and high speed of money transfer. Your sales depend on your choice.
Analyze your clients. How do they shop? Do they prefer to use mobile phones when they buy your products? If the answer is yes, think about integrating Google Pay and Apple Pay.