We're not saying Zoom isn't good, but there are a lot of other great options for communicating with coworkers and business partners. In this article, we'll show you the top five open-source meeting software options that our experts have tested and analyzed. Make sure to take a look and see if you've tried any of them before.
What is Video Conferencing?
Most of us have done a variety of things online in the past year, from shopping to going out and partying. Companies and educational institutions have also shifted to a remote format, necessitating the development of platforms for organizing group meetings.
Video conferencing is live communication between two or more participants via conference call. Choosing an open-source video conferencing service is a current concern for many individuals. Especially if you require a multipurpose, free or low-cost solution. To select the best video conferencing service or system, you must first determine what aims and objectives it should achieve. A suitable video conference freeware will enable you to establish communication between employees and boost the efficiency of remote teamwork.
During a video conference, each user can see and hear other users by utilizing the features of the open-source video chat. Each participant's sound and image are recorded and transmitted to other participants via communication channels.
Face-to-face meetings and conferences are expensive, so video solution is a great alternative. Developers can provide high-quality video conferencing regardless of the width of the communication channel or the capacity of the client equipment thanks to modern technical tools and video options.
Key Features of Online Conferencing
Let's see what's really good about the open-source video conferencing software.
Better resolution
Thanks to applied technologies in open source conference software, you can enjoy video communication sessions in a higher resolution (from 1920×1080 pixels), in contrast to the usual classic solutions such as Skype or Zoom. It may not be important when using standard monitors with a diagonal of no more than 20″, but with higher ones, it makes a huge difference. Therefore, the ability to find a reasonable compromise between signal transmission parameters and video quality is one of the important tasks of the correct transmission of information.
Сompression algorithms
Advanced data compression algorithms today allow you to broadcast high-quality images with good color reproduction in a low bandwidth Internet channel, up to 2 Mbps. The video stream adaptation technology in open-source meeting software allows you to adapt the channel width in real-time to the constantly changing conditions of each of the participants. For example, if a conference participant joins a video session from his smartphone, the system will automatically select the optimal streaming quality based on the display parameters and the connection speed of the device.
Reliability
Despite clear advances in improving the protection of operating systems, they are still vulnerable to virus attacks. Malicious programs that have infiltrated your computer can paralyze its actions, as a result of which there is a possibility of disrupting an important meeting due to equipment failure. In order to minimize these risks, modern hardware rooms have a closed operating system that applies world-class encryption and data security. The system is switched on and off with the press of a single button and does not require the involvement of specialists.
Data security
Do not forget about security issues, which are the key difference between video conferencing solutions and, for example, technologies that are used in Skype. Connecting in Skype conferences requires access to the open global network and access to the Microsoft server. This method does not guarantee information leakage in case of external attacks on the server. Pro solutions are based on the use of its own equipment infrastructure, which does not require a third-party server and Internet access. Such connections can be made over a local secured network. Support for encryption of the data stream almost completely excludes unauthorized access, which makes the process of exchanging information as secure as possible.
Best Open-source Video Meeting Software
Jitsi
Jitsi is a completely free open-source conference management software. The service is secure and uses end-to-end encryption. The platform allows up to 50 people to participate in the meeting at the same time without time limits. However, there may be more than 70 participants, but the quality of the streaming will be worse. To start a video call, just click on the button in the browser.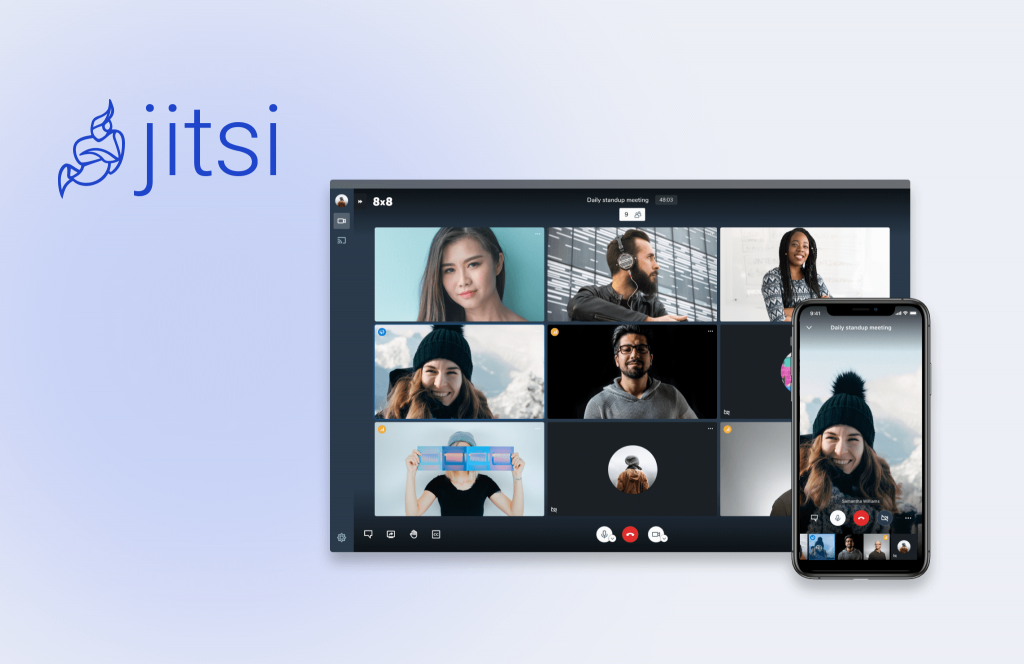 The link for the meeting is generated automatically. Participants join the video session freely by default. However, in the "Security Settings," you can enable lobby mode (login only after approval) or set a password. Using Jitsi on a mobile device, you can communicate either through a web browser or by installing the Jitsi Meet app for Android or iOS.
With all the advantages, the service also has a significant disadvantage. There is no moderator role in Jitsi. Any participant can not only mute the microphone for the speaker and for all other participants, but they can also "throw" the members from the meeting. Therefore, Jitsi is probably not the best choice for online education.
Jami
Jami is another option of open source video chat platform with an instant messaging feature. It is distinct in that it uses distributed hash tables rather than centralized servers, protecting user privacy by keeping private keys solely on user devices. It offers LDAP connection, registration, audio, and video chatting, file sharing, and other features. Jami, the GNU system's official package, is released under the GPLv3 and takes security and free and open-source software extremely seriously. End-to-end encryption with authentication utilizing RSA/AES/DTLS/SRT technologies and X.509 certificates protects conversations.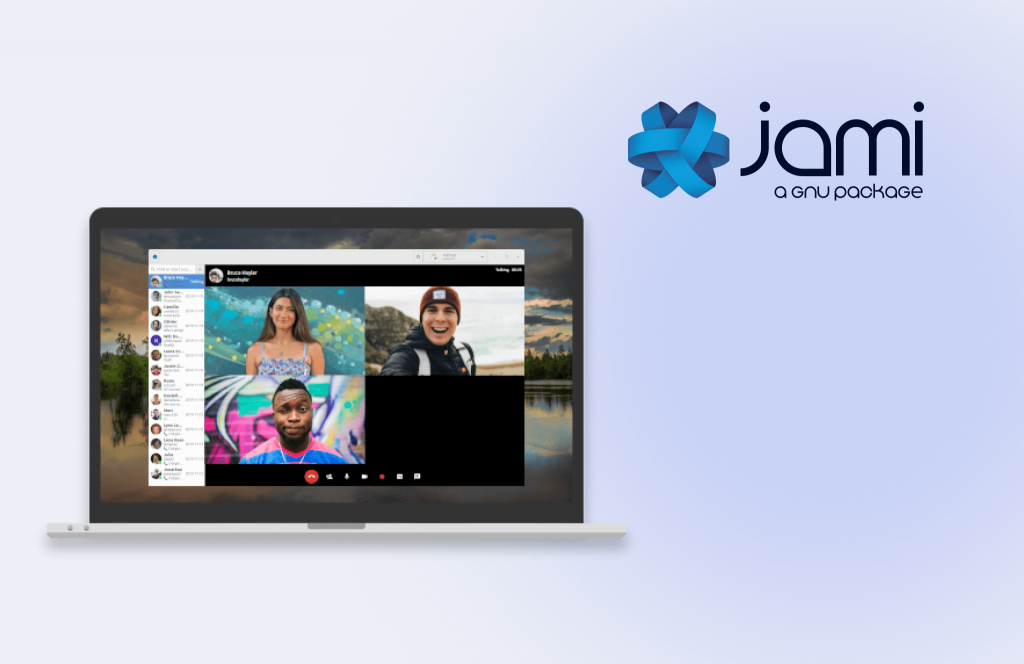 Jami is compatible with GNU/Linux, Windows, and macOS, as well as Android and iOS mobile devices. You can connect using either a unique user ID (created when you initially start the program) or the SIP protocol. In order to communicate, you must first register your ID on the blockchain.
Newsgroups, media sharing, and text messaging are available on Jami. In addition to the source code data archive, you can also find answers to frequently asked topics in the FAQ.
BigBlueButton
The BigBlueButton open source conference software allows users to join the video conversation as presenters, moderators, and listeners. The moderator gets participant management features that allow them to view, delete, mute, and limit participants. The creator of the conference automatically receives the status of the moderator, the rest of the users are listeners.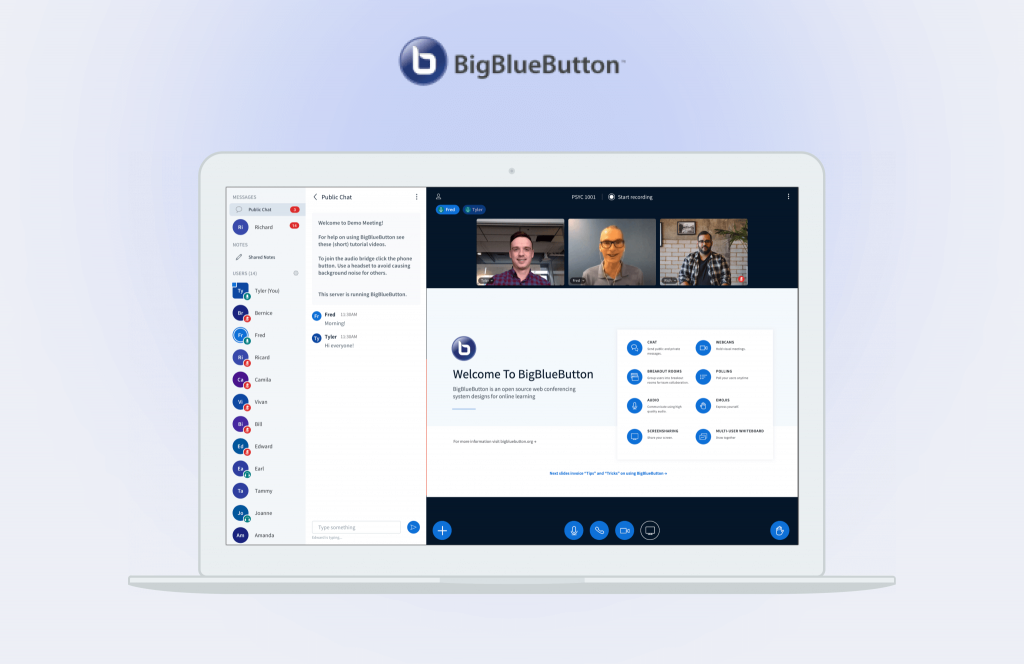 In fact, the job of a virtual lecturer is quite similar to that of a real one: in addition to video, they may upload papers using a pointer, focus on crucial points, and switch on audio for a selected listener, among other options. Furthermore, the BBB supports more than 40 languages, and the automated translation may be carried out when interacting in the chat with users in other languages (the quality is at an acceptable level).
You may use any computer that has a web browser with Adobe Flash support, which means it can operate on Windows, Unix/Linux, or macOS.
Wire
The Wire is a feature-rich open-source video conference platform for making quality voice and video calls on desktop and mobile platforms. There are audio filters for voice messages, usernames, the ability to hide phone numbers, and HD group calling with stereo capability. There's a secure screen-sharing feature in The Wire, along with file-sharing, group chat, admin management, and the option to move between different accounts and identities (like work and personal).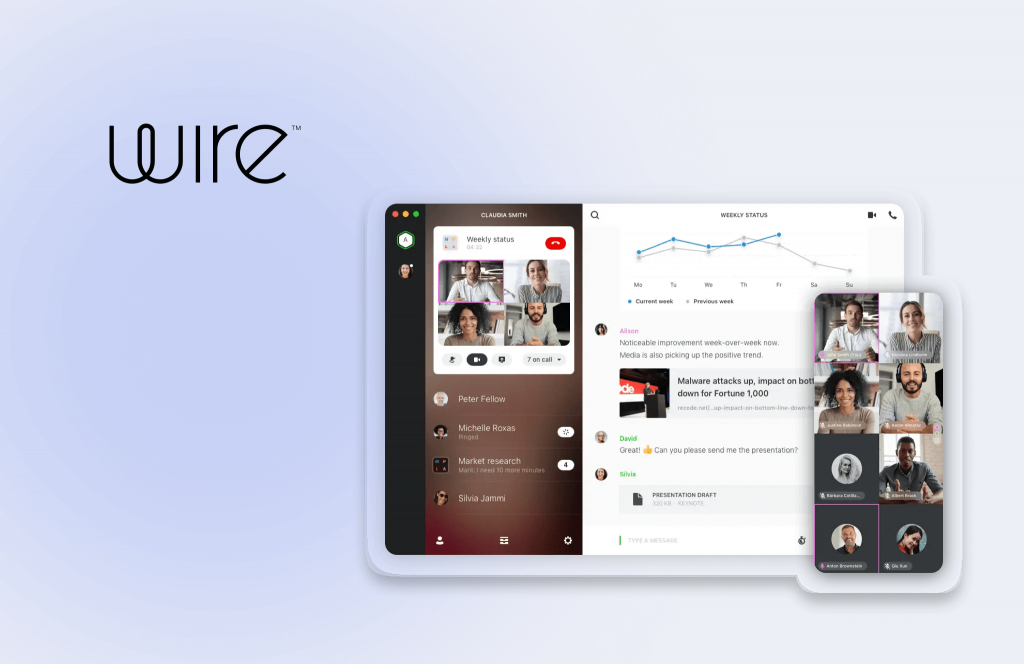 A GPL 3.0 licensed open-source service, The Wire is free to use if you assemble it from the source on your own server and host it yourself. Starting at $5 a month, you can upgrade to the premium version of the app (corporate plans are also available).
Riot
Riot is a team management open source video conferencing solution. Special "rooms" organize communication (including audio and video conferencing, file sharing, alerts, and project reminders) according to the subject, team, event, and other criteria. This means that everything exchanged in these rooms may be retrieved indefinitely, with access controlled by confidential settings. Aside from IRC and Slack, Riot may also be used to interact with people who use other applications such as Gitter.
Google Chrome and Firefox browsers as well as iOS and Android mobile apps are all compatible with Riot. When it comes to infrastructure, Riot may be operated on your own server or on Riot's servers. For this reason, all files and data in the application are end-to-end encrypted using the Matrix React SDK (Software Development Kit).
Riot is released under the Apache 2.0 license, has its source code on GitHub, and documentation, including video courses and FAQs, is accessible on the website.
Summing It Up
There are numerous services for organizing a free video teleconference and it's only up to you which one to choose. As an organization that uses video meetings way too much, we've presented you with our top list of platforms we totally love. If you have any questions or inquiries about the list, please feel free to leave us a comment in the section below.