When we talk about Apple, Ikea, or Nike, what is the first picture you see in your mind when you imagine these companies? It is their logo. That's why it is so important to choose the right one for your store because this is the first thing your customers will visualize when they think of you.
We will tell you what types there are, how to create a logo for free, and the main steps in developing a symbol for your business.
Why does your eCommerce store need a logo?
A logo is a powerful visual sign of your brand that helps customers remember you. What are its main benefits?
Boost your brand awareness
One of its essential goals is to increase your brand awareness. When a user first visits your website or sees the packaging of your products, they will recognize your business from the logo and design in the first place.
Stand out from your competitors
The user can browse dozens of different websites before selecting your products. So your task is to evoke certain emotions and make them remember you. A simple and unusual logo and naming help you with this. Therefore, it is also important to choose the right domain name for your site so that the buyer can quickly find you among the competitors.
Make customers trust your company
The logo influences how customers perceive your brand. If you make a low-quality and incomprehensible image, they will decipher it as an indicator of your unprofessionalism and poor attitude to work. And this is also one of the reasons why design is important to the company.
How to create a logo? A detailed guide
Discover some of our tips to help you structure this process.
Define your mission, values, and strengths
When you develop a brand strategy, you should determine your mission, values, vision, strengths, and principles. Subsequently, it will help you communicate effectively with employees and consumers.
The mission is the meaning of the organization's existence, its highest purpose. It answers the questions:
How do we want to be useful to people?
How will our company change the world or people's lives for the better?
Values are the business and moral beliefs that a business uses. For example, Apple's values include simplicity, convenience, high quality, and a commitment to innovation. Some of them got their reflection in their logo.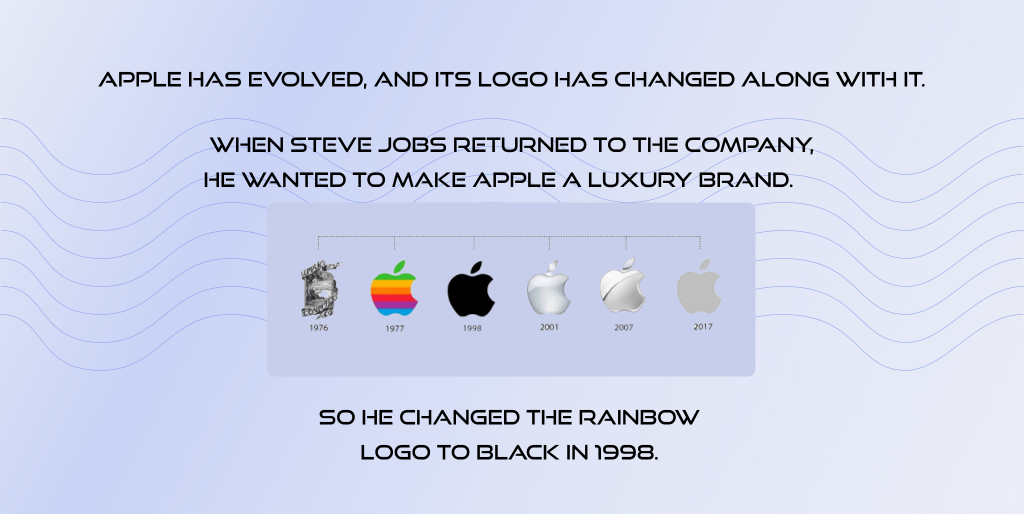 The company's strengths are the characteristics that distinguish you from your competitors in the market. What do you do better than other businesses? Do you deliver faster or offer more personalized service, or something else?
How will the mission, values, and strengths help you create a memorable logo? Based on this information, list some ideas on how you will interpret it when creating prototypes.
Analyze your audience and competitors
What do your potential customers value about your product? What experience do they want to have? Imagine that you want to attract a young audience that loves unusual clothing designs, something extraordinary and bright. They will appreciate creative logos with a company character or bold color combinations.
If you sell more versatile models, and your customers prefer practicality, status, and elegance in the first place, use only the brand name. The most popular choice is to make the black text on a white background. But in this case, you should find your font to differ from the many other stores.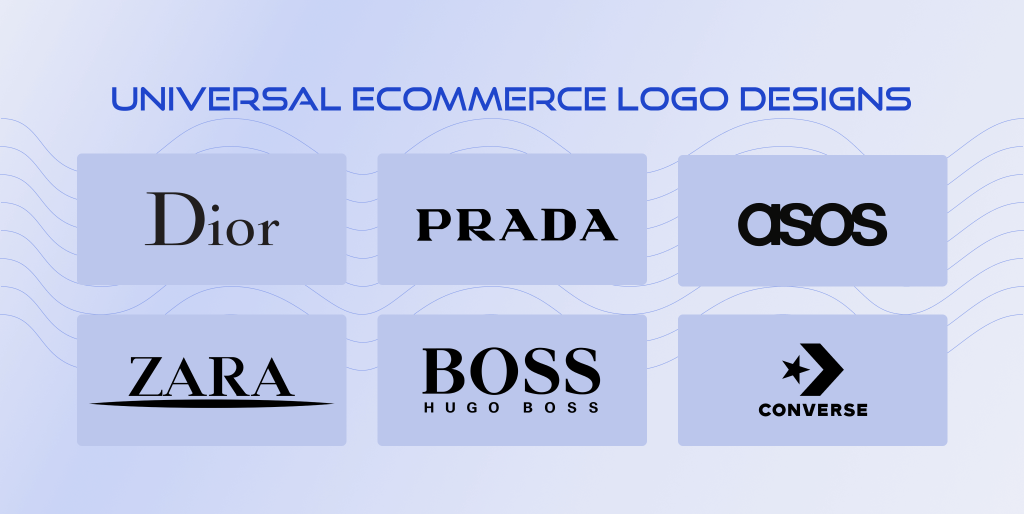 Before you understand how you can stand out from your competitors, review their design. Pay attention to what style and colors they use. Are their logos associated with their niche? Or do they only use the brand name? Analyzing their mistakes and advantages will allow you to make something unique.
Look for design inspiration
Where can you find creative logo ideas? Designing something from scratch is always hard. And you may face the fear of the blank page. Use multiple sources for inspiration and collect original concepts. Choose the ones you like the most and think about what details attract you. The combination of different references will allow you to develop something unique.
Some popular places where you can look for ideas to create a company logo.
Pinterest. Many designers use this platform for inspiration. Try different search terms to see cases in your niche, theme, or style.
Instagram. Using hashtags and keywords, you will discover the latest trends, examples, and interesting accounts of designers and agencies.
Logoed. It is an extensive database of various well-known and less popular brands' logos.
Logospire. Browse the logo gallery on a convenient one-page site quickly and easily.
Behance. It is a popular platform where web experts post their work, so it is a great place to find creative ideas.
Design Inspiration. This platform opens up the possibility for you to search and save interesting designs.
Logopond. It is a simple website with a collection of different logos designed by creators from all over the world.
Selecting a logotype is one of the key steps you need to take. What are your options?
Choose your logo style
Text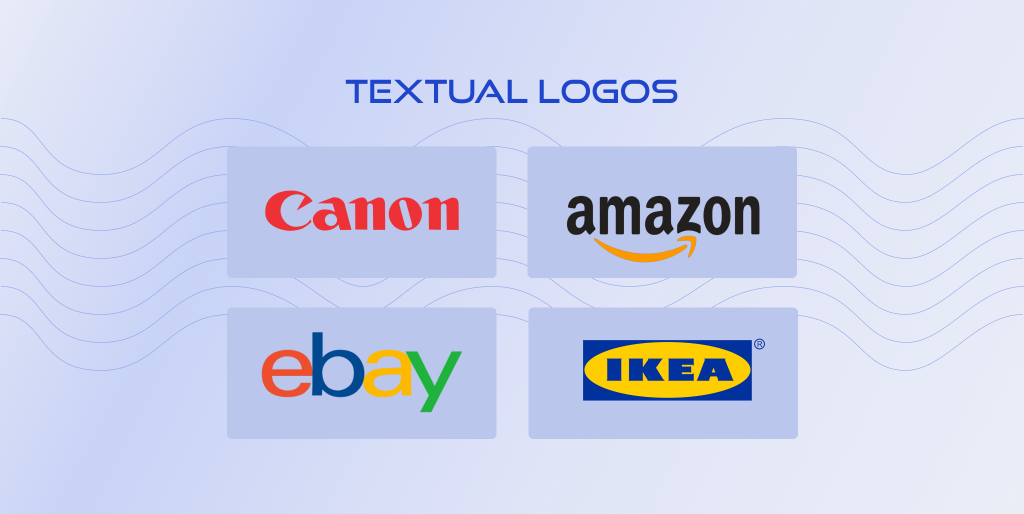 You can create a logo using only acronyms, the name of your brand, or the products you offer. It should be simple and short. And it is the most popular type of logo you will see in e-commerce, for example, Canon, Amazon, Ikea, eBay, and others.
Graphic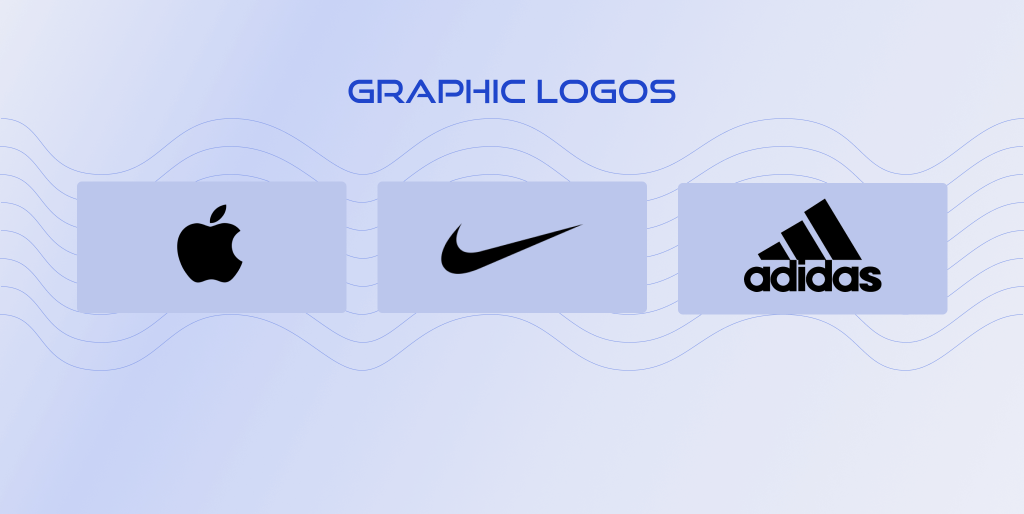 There are graphic images that you use to represent your brand. Direct associations, signs, or abstract concepts are acceptable. For example, you sell cars. You can use an image of a car in your logo or choose a more symbolic concept like a speedometer.
Graphic logos are also popular among famous brands such as Apple, Nike, Adidas, and so on.
Mixed type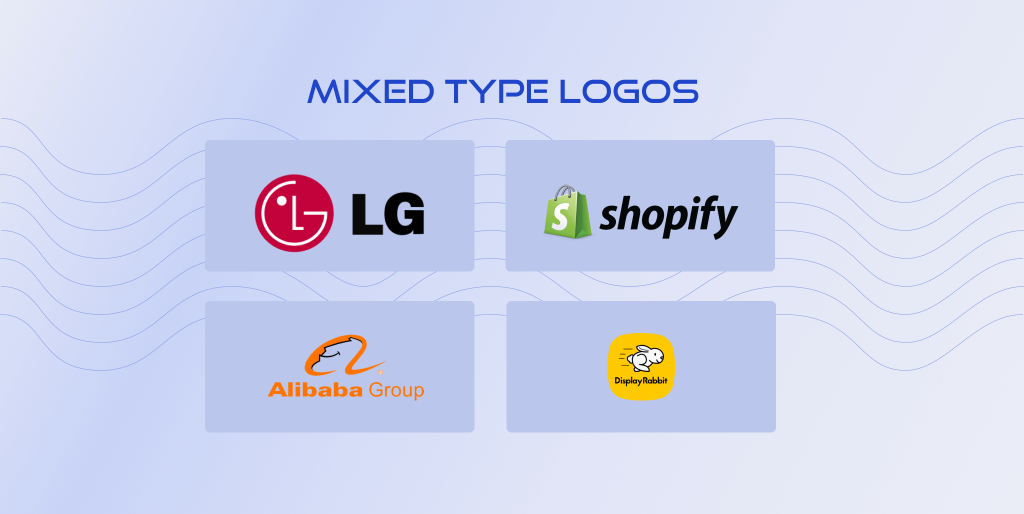 Many stores choose this logo style by combining a short name and graphic elements. Check Alibaba, LG, Display Rabbit, and Shopify stores.
Select the right colors
People associate colors with different concepts and emotions often without thinking about them. Thus, blue is associated with purity, honesty, security, trust, and tranquility. Therefore, many B2B businesses use this color in their website designs. Green can be interpreted as an indicator of sustainability and organic. Learn the meaning of colors and choose the ones that suit you best.
Create several prototypes
It is better to have several different versions of your logo to test different options and find the right one. Be prepared to consider many ideas before you get the result you want.
If you decide to design prototypes yourself, there are many generators available. We have prepared a list for you to choose which tool is best for logo design.
They are all easy to use and require no special design skills. Answer a few simple questions and enter the brand name.
Conduct a survey
Once you have several prototypes, we advise you to conduct a small survey among employees or potential customers to see which one they can remember faster and easier. Find out what emotions and associations they have when they see it. And then select the best one.
What to choose: a designer or a logo maker?
You have two options on how to create a logo online. Let's explore some of the advantages and disadvantages of each.
Hire a designer or contact an agency
Advantages
You need a minimum of action. Answer a few questions about your business and wishes.
You will get an original and modern design that reflects the philosophy and style of your brand.
The designer will help you come up with ideas for a memorable logo to stand out from the competition.
Disadvantages
Hiring a specialist freelance or through an agency will be more expensive than using online tools to create a logo.
Finding a qualified professional can be a daunting task.
But who suits you better: a freelancer or an agency? We have an article on this topic that tells about the pros and cons of both solutions. If you are looking for a reliable specialist to help create a unique logo, check out our portfolio and contact us. We know how to create a design that will be in trend for a long time.
Use free logo makers
Advantages
You spend less money but more personal time thanks to free tools.
You can create a logo yourself, which saves you from looking for a specialist.
Disadvantages
Even the best free logo maker is not capable of making something unique and personalized.
You cannot create something creative and fully implement your ideas.
Summing it up
A good and memorable logo should tell the story of your brand, its values, and its principles. Like the name of your store, it should be easy to remember. A logo helps boost your brand awareness, stand out from your competitors, and inspire more trust among customers in your business.
Before you start designing your brand symbol, take a few preparatory steps. Define your values and mission, conduct a market analysis, and look for some examples.
Decide what style and colors you want to use. Free logo makers will allow you to create multiple prototypes you can test on users. If you are interested in original and trendy design, you should seek the help of a professional.