Have you ever thought about ​​why you need a web site for your business? With the development of technology, the entire stream of potential customers moved to the Internet. In this article, we will figure out how your own website will help you get rid of unnecessary costs and optimise your business.
What are the Perks of Having a Business Website?
To start, we have to deal with the question "does my business need a website?" In fact, it needs. And there are some obvious reasons.
First of all, a website serves as the public face of your company. You can provide your consumers all the information they need, including your contact details for rapid communication, a map showing the location of your offline office, hours of operation, and prices for your services. Having a website gives you the ability to interact with your clients and site visitors in real time. For consumers and suppliers, this is where you may post extensive information about your items.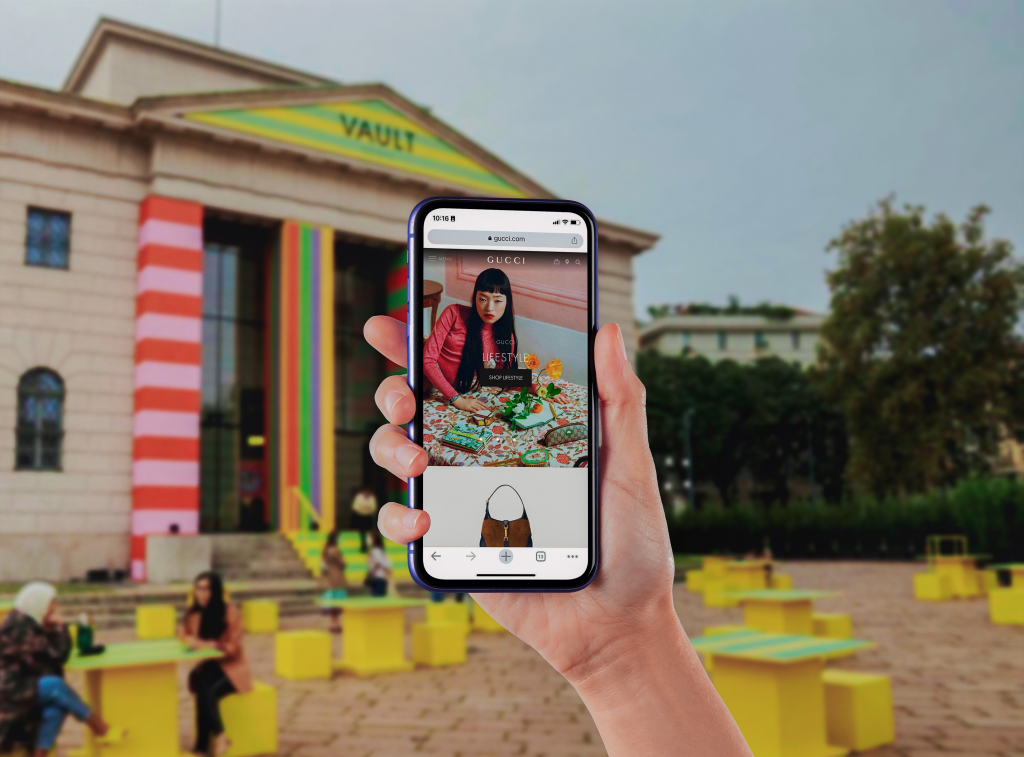 Second, if you operate an online business, you may inform potential customers about items on your website, compare them to other models and brands, and show them all the advantages of their decision and purchase. A website may be a powerful marketing tool for your company. About 25-30% of your consumers find out about you through the content on your website. In addition, making a website for a business will help to reduce staff duties. For example, if you add details on the services and products on your website, it will get your workers rid of numerous calls and messages.
Reasons to Have a Website
Having your own website enhances your company's image in the eyes of potential clients and partners is probably the main idea why a business needs a website. Just a few years ago, when you wanted to learn more about the company's operations or what services it offered, you had to contact or go to the office.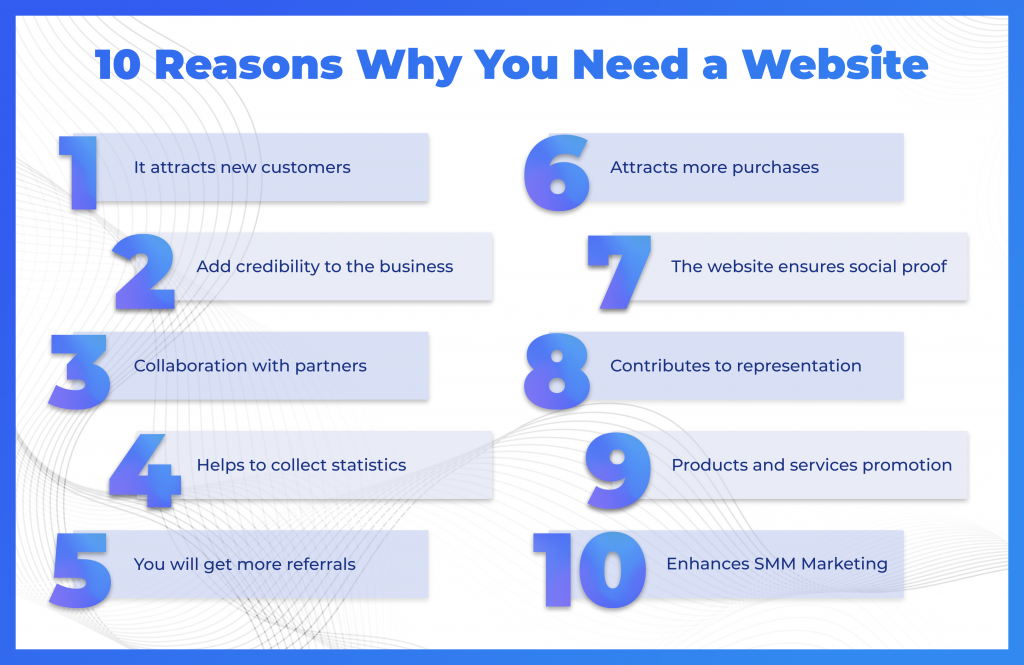 The website serves as a 24/7 virtual office for the company. Now, the user can find any information they need online, including:
A detailed description of goods and services;
Contact details;
Working hours, etc.
Let's take a closer look at the importance of having a website.
It attracts new customers
If you have a website, you can use online advertising options. The number of people who use the Internet to find the information they need increases year after year. Take a look at the number of people who are searching for information on your issue, and then turn them into paying clients. Contextual advertising and SEO marketing will assist you in this endeavor. A well-designed website provides all the information needed and simplifies the purchasing process.
Adds credibility to the business
Another benefit of the ​​importance of a good website for business is that site offers the company's customers more ways to connect with the seller. Using this tool, your customers can get comprehensive information about your company and quickly communicate with management. They can also leave a review of the product they purchased or read reviews from other customers about the items that they're interested in. When used properly, your website may be a valuable source of market research. This will assist you in formulating a business plan and directing it in the appropriate direction.
Collaboration with partners
Because everyone has access to the internet and can acquire the information they need at any time, company owners can stay in regular contact with their consumers or business partners. An online technical support service or e-mail allows companies to stay in touch with clients and partners around the clock.
Helps to collect statistics
When a business has its own Internet resource, it is much easier to explore the performance indicators, which is another reason for you to need a website for your business​​.
You may use it to check the sales cycle, product liquidity, and profitability of the company. The site may be a valuable resource for companies performing marketing research on their own actions and their partners.
You will get more referrals
By making a website for a business, you will get a magical tool: links that you can share with everyone. If someone wants to recommend you to their friends, it will be much easier for them to send your website address than to write down your office address and phone number on paper. Not to mention, people are more likely to click on your link than come to your store.
Attracts more purchases
The mobile internet is fast gaining traction and strength in the industry, in case you haven't already noticed. Did you know that local mobile searches have virtually exceeded desktop searches? Make sure your website is mobile-friendly.
The website ensures social proof
Customer behavior is often influenced by the opinions of others about your company. Even if your company has a perfect five-star rating on places like Google Maps, consumers still expect to view your site to learn more about your brand. Posting clients' feedback on your site is a wonderful method to ensure potential customers and give social proof because they are already searching online for you.
Contributes to representation
What if I told you that having a website offers you a fair chance against the industry's giants? When a website is well optimised, it may get a higher position in search results and get more visitors than sites of more famous competitors.
Using the appropriate keywords may improve your website traffic and impact your customer's journey, which generally starts with research, recommendations, and reviews.
Enhances SMM marketing
If you believe that having a presence on social media would automatically bring in new consumers, you're mistaken. It's not enough to have a Facebook page because everyone else does. If you don't have a strong online presence, your consumers will go to your competitors instead.
According to Facebook, people spent 50 million less hours on the social network last year than they had a year prior. So, many businesses are shifting away from only depending on social media and invest in good business card website options instead.
Products and services promotion
It cannot be emphasized enough that your site is the initial point of contact between your target audience and your brand. And this is another point for you to think about why build a website. With a proper optimization strategy, your site can grow and get more clients in a very short time.
A Website From Scratch or a Template?
There are two ways to create an Internet resource: you can order a custom-designed website or use a ready-made template.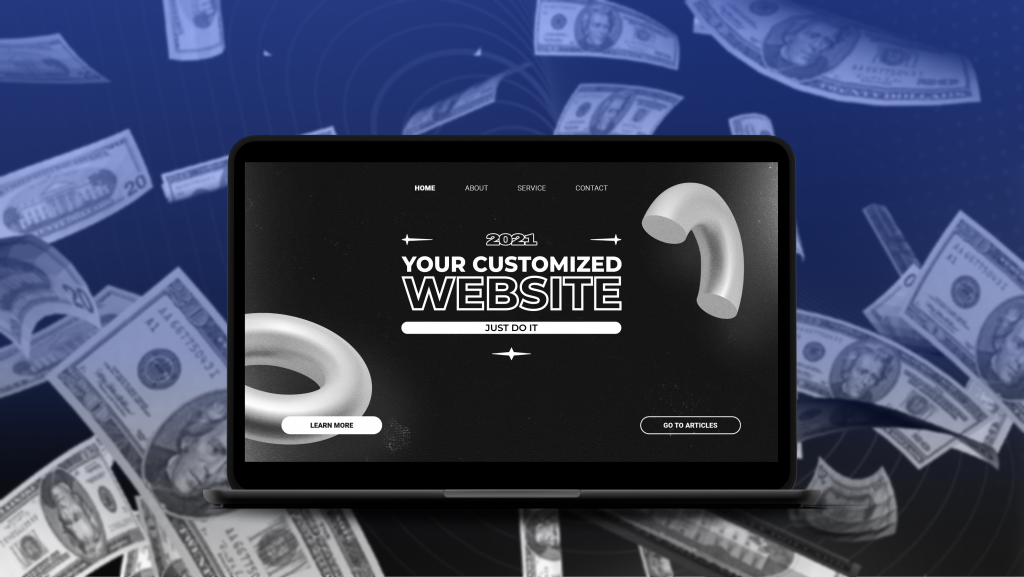 You may think that using a template is less expensive and enough for your business. In some cases it's true, but there are some hidden drawbacks that business owners don't think about.
Limited functionality
Template sites often give a minimal set of features and capabilities that a page owner may use. As a result, any effort to add an extra script or plugin to an Internet resource will fail. Some services provide the option to purchase extra features, although they are severely limited. In addition, its own site enables its owner to add any plugin or build whole new features for the site.
Advertising
Have you seen poorly-developed websites with tons of pop-up ads on them? These are mostly the sites that are based on template options.
Difficulties in promoting the resource
Search engines automatically downgrade third and even second-level domains located on free hosting, giving preference to sites on paid hosting. SEO promotion opportunities are ineffective for free templates or included in the package of paid services. This will result in low positions of the resource in search results and poor traffic.
Template style
Internet resources created with website builders are easy to distinguish: they are the same type in their structure and design. Constructors are rigidly bound to the standard design structure, so it will not work to create your own unique design on such services.
Thus, website builders are great for small web projects. But in order to attract new customers and get the most out of the company's website, it is recommended to create a customised website with an original design.
Recommendations for Managing a Site
There are three main principles to manage a good website and make it grow.
Make sure the cover of your web page correctly reflects your offerings and captures the attention of your visitors. The user must understand what you're giving and how it differs from the competitors' offers.
Don't overload the site with sections, advertisements, or animation. Pages should be well-organised, and the site navigation should be easy to use. There is a cultural disinclination among users to spend a considerable amount of time trying to get information.
Submit your social network connections and links, and allow site users to ask a question or make a request. Don't shoot your consumers with pop-ups that ask for their email address or seek a call back.
Summing It Up
A website is a must if you want to increase income and broaden your customer base. More and more individuals are making purchases via the Internet each year. So, if you're still thinking about whether it is necessary to have a website for your business, consider this option. Having a customised business website is a great tool for improving your image and following modern trends.