There are many ways to sell online. Digital marketing is one of the most used and most beneficial methods for online business to prosper. And content marketing is an irreplaceable part of it. In 2022, it is hard to imagine a good website performance without a proper content marketing strategy.
Digital content marketing is everywhere. It's on every website you visit, on the social media feed you scroll through, and even in this article, you're reading right now. From infographics to blog posts and video tutorials, all of this is content marketing that brings profit. Follow this article to learn about the purpose of content marketing and how to apply it.
What Is Content Marketing?
Content marketing is about using content to provide information to the consumer. Content marketing builds an audience of future customers, engages them, motivates them to buy your product, and then continues to interact with them so that they can become loyal to your brand. Content spans everything from eBooks to webinars to blog posts. The marketing part is how you promote it, what channels you use and what subsequent metrics you analyze.
The most important part of content marketing is that you are not trying to immediately sell a product or service. You use different types of content to establish trust and authority so that your client matches you with topics related.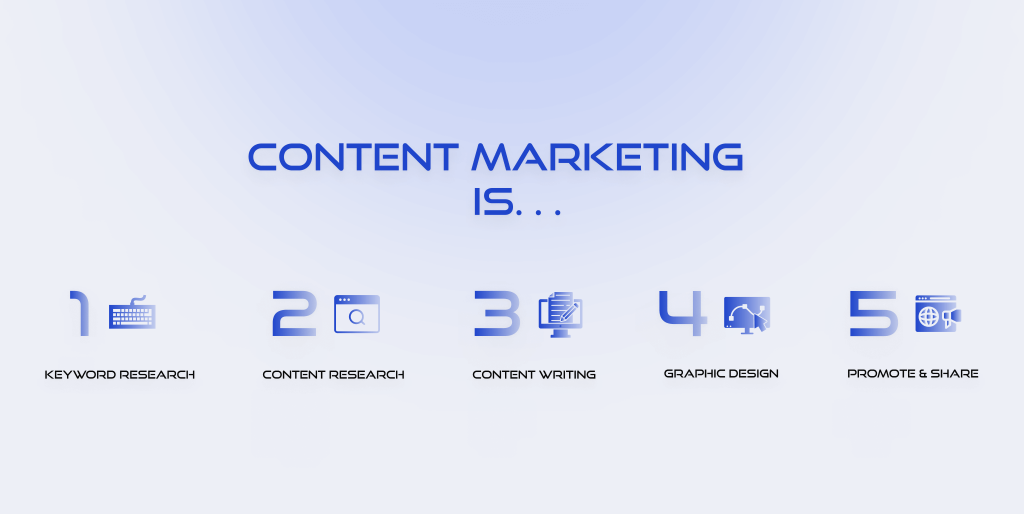 Why is content marketing important? Content is information that your potential customer receives at the right time in the right place. Today the most popular types of content are:
Articles;
Product reviews;
Visuals (pictures & videos);
Comments;
Contests;
Discounts and sales options.
Also, content can be unique and non-unique. Unique content is one that has not been published on the network before. Of course, unique articles or reviews are difficult to create, so such materials are expensive, and usually are created by experts.
Non-unique content appears by copying information from one site to another. Search engines have a negative attitude towards such actions of webmasters and pessimize the resources that host non-unique content.
What is a content marketing strategy?
The content strategy depends on the objectives of your business. This means that all your content is a collection of tools to achieve business goals. Therefore, first of all, determine your goal to understand what you need content marketing for.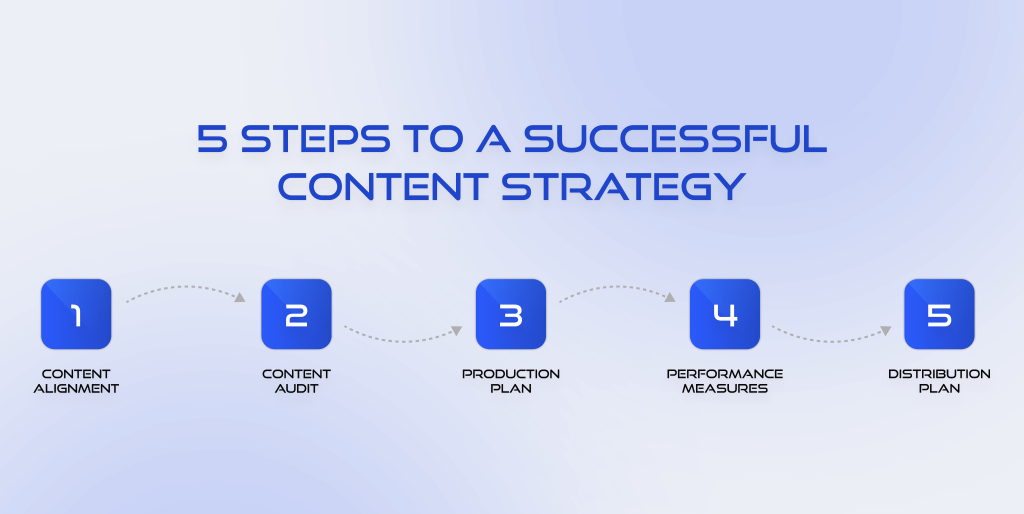 Content marketing solves different problems:
Increases awareness;
Demonstrates the product;
Generates sales;
Strengthens reputation;
Works with customer objections.
How to set a content marketing goal?
Set measurable and achievable goals;
Choose goals depending on promotion channels and audience;
Align goals with overall marketing strategy.
A digital content marketing strategy that targets the wrong audience is a waste of time and money. So study your audience and create a target character map.
There are different criteria by which the target audience is segmented. It all depends on what your business is selling. For example, the criteria by which characters are distinguished can be combined into groups: demographic, social, geographical, psychological.
Use the received data to form segments of the target audience. Then, in each segment, create character portraits that will describe an individual person. You can have multiple characters in each segment.
Keywords are the backbone of an SEO-focused strategy. That is why work on content always begins with the collection of key queries.
At this stage, we analyze the real needs of users, on the basis of which we write an article. Keyword research provides you with the following information:
What are people looking for?
How many people are looking for it?
What information do people want?
To produce content, you need a repeatable and structured process. Therefore, the first thing you need to do is to appoint a responsible person for content creation.
Examples of Successful Content Marketing
Let's look at the most popular examples of successful content marketing.
1. Coca-Cola
Probably, a small percentage of people do not know what Coca-Cola is. The purpose of this campaign was to personalize your favorite drink. This campaign originated in Australia. People were much more interested in buying a bottle of their favorite drink with their name on the label.
Why was such a campaign expected to be successful? Thanks to this campaign, every customer could feel more special. Personalization has been the true essence of content marketing. The Coca-Cola company did not track and analyze users on the Internet, did not redirect users' attention, did not deal with additional characteristics.
According to research results, it turned out that about 74% of marketers understand that users can be attracted through personalization. But only about 19% of them tried to use this tool at least once.
Coca-Cola was able to change the emotional connection with consumers, while they "shared" the product. You can call the Coca-Cola campaign the first to create a big boom.
What does this show us:
Each buyer has emotions. If you want to know what buyers want, then it's personalization and new positive emotions.
2. Buffer
Buffer is a special app that provides social networking. With this app, users are able to track ratings in social media, plan their publications. And the "magic" is not in the product itself, but in how it has been presented on the market. Open it up and take a look at the Buffer blog.
Why is it so popular? Because it has user trust, transparency and it's open. Everyone knows that everything ingenious is simple. It's just a perfect description for this app. This is not just a demonstration of what they do, but a demonstration with explanations of how you can do it yourself. Each post contains valuable and important information.
In this application, developers strive to tell exactly what users want to hear. They provide help in solving more specific problems for users.
What does this show us:
Try to keep your focus on values. Engage in informing and educating your visitors. Don't neglect advice for them. After all, in this way they can only make sure that your company is worthy of their trust.
Benefits of Content Marketing
Content marketing is one of the most discussed areas of promotion. There are different opinions, reviews, fears, and warnings. Digital content marketing is the new reality of the Internet and thereby explains the importance of content marketing for businesses. It is content marketing that is able to drive traffic to the site and make it stand out from the competition. But, as in any field, it has its advantages and disadvantages.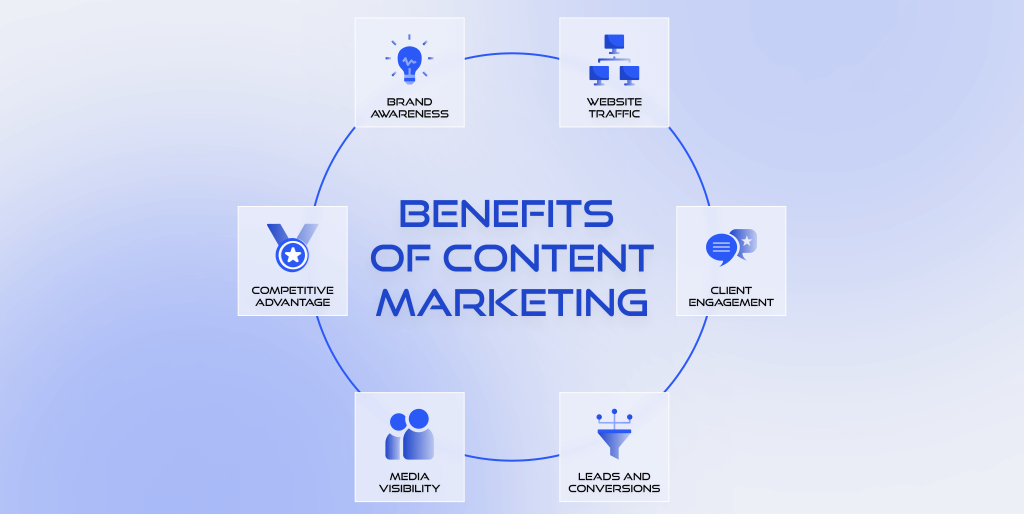 Advantages of content marketing for businessBrand awareness
Brand awareness
Content is posted on different platforms: video resources, social networks, media, thematic communities, blogs. It gives you a wide coverage of the audience and increases brand awareness. A potential client can meet your brand on Facebook, read about it on Twitter, and see it on someone's Instagram Story.
The posted content solves specific problems, entertains, or educates, that is, it has value for a person. It creates a strong emotional attachment between the brand and the client.
Formation of an expert position and trust
By creating and distributing useful materials, the company forms the image of an expert in its niche. The concept of social and ethical marketing is being implemented, when the main task is not just to sell a product, but to establish long-term relationships with consumers, make them "brand ambassadors", and expand the customer base through recommendations and promote content marketing development.
Getting traffic is easy. It is much more difficult to build relationships with customers so that they do not forget you after the first purchase. When creating content, we, first of all, think about the benefits that it will bring to users, and sales with the right approach are inevitable. Most importantly, customers remember you, recommend you, and come back again and again."
Authoritative platforms play a special role in building trust. Thanks to cooperation with opinion leaders, the advertiser enlists support – after all, an eminent blogger cannot recommend a bad product! And over time, the advertiser himself becomes an expert, whose opinion is listened to.
Traffic, leads, and conversions
Reading articles on third-party sites, reviews, recommendations, and watching videos, users follow the posted links to your site. The advantage is that they are already prepared, they understand why they are moving and what they want to get. Therefore, the lead generation and conversion rates are higher here than for traffic from banner ads or organic search.
Content marketing is significantly more effective than contextual advertising in terms of cost per click (CPC). This is especially noticeable in topics that are traditionally expensive for the context, where the cost of a click starts from $10. Of course, content marketing topics matter, but they are not decisive for CPC.
Disadvantages of Content Marketing
The complexity of implementing the strategy
This is probably the main drawback. To implement the strategy you need professionals, because it is necessary to form a promotion concept, select relevant sites, create engaging content, monitor performance and adjust the content plan.
Independent implementation of the strategy is possible only if your team has a specialist that is experienced enough. But it can be really hard to find one. However, you can contact the agency and get a guaranteed result for a fixed price.
Summing It Up
The value of content marketing for the business is in its easy and soft impact on consumers. It does not impose purchase or service, but enlightens, arouses curiosity, entertains, educates, thereby inciting a person to action. Good content is interesting and positively perceived by the user even if its connection with the brand (shop, sales) is obvious. Content marketing is not used as a standalone method, but is part of an overall marketing strategy that includes standard methods of promotion through direct advertising.