The lockdown has increased interest in online learning. So now you can attract users to the new platform much easier. Follow a few steps to succeed and save your money.
How to create an e-learning platform
You can reduce the costs and speed up the platform launch if you do the actions below.
1. Analyze your target audience and competitors
Many businesses skip this step, believing they know better what their audience needs. As a result, they spend a lot of money on marketing and sales to convince buyers of the product's benefits. Instead, ask them some simple questions and do some research.
What information is important to get from your potential buyers?
Who are these people? What do they do in life?
Did they buy online training? If yes, what courses? How much did they cost? What did they like or dislike?
If they've never bought online courses, find out why. You need to understand what influences their decision to start training or postpone it.
What are their expectations, pains, needs, and goals in your field?
What content format do they prefer?
The more data you get, the easier it will be to create and promote the platform in the subsequent stages.
Competitor analysis is also one of the most important stages of research. There are other online education services besides you on the market. You will have to compete with them for the attention and money of consumers.
In addition, the analysis will allow you to find what they are doing wrong. Or vice versa, you can discover good ideas for your platform.
What should you pay attention to when analyzing competitors?
What is their unique selling proposition?
What advantages and benefits do they offer?
What audience are they targeting?
What features do they provide?
What is their website design?
What is their business model and pricing?
The more you know your competitors, the better you understand how to stand out and attract customers.
2. Define your business model
How do you generate income from your educational platform? Before looking for a team and developing a project, define your business model.
What are the options?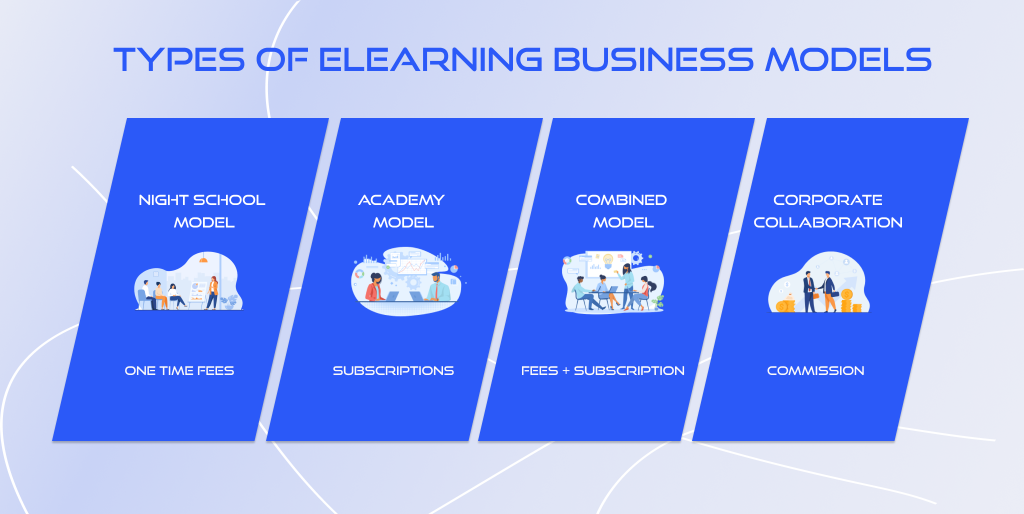 Night School Model. The user buys a course and pays a one-time fee for access. It is a good model for those who are just launching their first online products or selling expensive programs.
Academy business model. You offer access to the platform on a subscription basis. Consider this option if you have multiple courses and plan to add new content. The advantage of this model is that the subscriber stays with you for a long time, and you can attract a wide audience due to the diversity of topics.
Combined Model. This option is suitable for businesses that want to use both models: sell a subscription and separate additional content or services.
Corporate Collaboration. You partner with other companies and provide them with your platform to publish their courses.
3. Determine the functionality of the MVP version
MVP is a product with minimal functionality and key features. It serves as the basis for the entire project, which you expand and supplement with new components. Ideally, if you are looking for a team when you understand what you want to see in the MVP version.
Some people have difficulty at this stage. In this case, give preference to agencies that will help you determine the basic functionality and think through the technical documentation of the entire project.
What parts does the online learning service consist of?
Website
Goals: presentation of courses and encouraging users to sign up.
Administrator
Goals: managing the site, assigning rights to other platform members, and responding to their requests.
Instructor
Goals: development of educational materials and lessons, curation of students through the platform.
Student
Goals: learning and passing courses.
What features do you need for the MVP version?
Registration and the ability to log in;
Admin panel, which allows you to manage the content of the site, user rights, and more;
Payment system;
Filtering;
Dashboard panel with all courses;
Course page with all the required information;
Creation of the course by the instructor;
Notifications;
Viewing instructor profile;
Commenting;
Communication tool.
4. Find a team
Finding a team is the most important step. If you do not pay enough attention to this issue, you risk losing money and precious time.
How to find reliable specialists?
Avoid pre-losing strategies – "I will choose the agency that will offer the lowest price". Spend 30 minutes more time, but learn the average price.
Look at the whole company's offer, and do not consider only the cost. Someone offers only development services, while others provide a full cycle and help you at all stages, from creating a product concept to developing and promoting it.
Examine the portfolio. Give preference to agencies that have already worked with educational platforms. Their experience will be useful to you. In addition, you will be able to evaluate whether they suit your expectations and needs.
Choose 3-5 companies and write to them. Find out what they offer and how much their services cost. Notice how quickly they respond and how customer-focused they are. Will you feel comfortable working with them?
Why is it risky for an education platform to hire freelancers?
You must understand that an educational service is a complex project that consists of many parts and requires the participation of several specialists. You need to think over the logic of the platform and its design, draw up technical documentation, assign tasks among employees, and control them. You will struggle with several problems if you do not have the skills and experience to hire the right people and manage IT projects.
5. Create technical specifications
If you have experience in creating technical specifications, you can do it. In other cases, it is better to consult a specialist. When hiring a development team, a project manager will help you to determine the requirements and characteristics of your project.
Why is it important to do? If you skip this step, you risk spending more money on a product and not getting what you want.
6. Prototype
Create a prototype to test the platform with real users. It is much easier to redo the project at this stage than to change something when the whole service is ready. Explore our guide to paper prototyping and testing for web interfaces.
5 Mistakes to Avoid When Creating an eLearning Platform
Disregarding mobile learning
Many people prefer to watch online lessons using smartphones or tablets. Remember that users now value mobility and convenience. They also want to study on the road, in a restaurant, or on the street when they have free time and need something to do.
Make sure they feel comfortable using your platform anywhere. The mobile version will increase their interest in your courses and help them spend more time studying.
Not testing your service before putting it online
Test your platform with users before you run it. Make sure that the developers have fixed all the bugs so that the consumers do not have obstacles and problems. You can involve your employees to go through the customer journey and check if all functions are working correctly.
Overlooking Analytics and Reporting Features
Add analytics tools. They will help you analyze the actions and behaviors of users and understand in time what you need to fix or improve. They allow you to monitor the effectiveness of sales and your employees and find weaknesses that you should optimize.
If you don't want to buy analytics tools, add them to your development plan.
No room to scale
Keep in mind that one day you may want to scale your platform. Even if it is irrelevant to you now, think about it in advance. Your service can be designed for 200 users. But will it function without failures if there are 200,000 of them?
You need to create a project structure in such a way that you can add new functionality and handle more users without affecting the current ones. Otherwise, you may find yourself having to redesign the entire product.
Ignore the importance of reviews, testimonials, awards, or recommendations
This kind of content gives credibility to the platform, which makes it easier for you to attract new users. Allow them to express their opinion. Teachers will understand what they need to improve, and students will be able to track their progress.
How to create a website for an e-learning platform? ClerverMee case
CleverMee is an educational platform for kids to learn math. This website provides an opportunity to get acquainted with the team, learn more about the service, register on it, subscribe, and make payments for a subscription.
Clevermee aims to be the first Math platform in the market that uses AI to offer personalized support to every kid of school age.
What technologies did we use:
Back-end technologies:
PHP, SQL, WordPress.
Front-end technologies:
HTML, CSS, JavaScript, jQuery, Bootstrap.
Additional technologies:
API: Stripe (to make payments and approve registrations).
Goals
create a website that looks modern, minimalist, and in the style of a tech start-up;
make an online payment opportunity;
allow users to visit the website and pay from any device;
provide the ability to add new languages in the future.
5 tips to develop a successful e-learning website
Create a brand style
Use the colors and fonts of the brand on the site. And also, choose what values, principles, and characteristics the visitor will "read" from your design.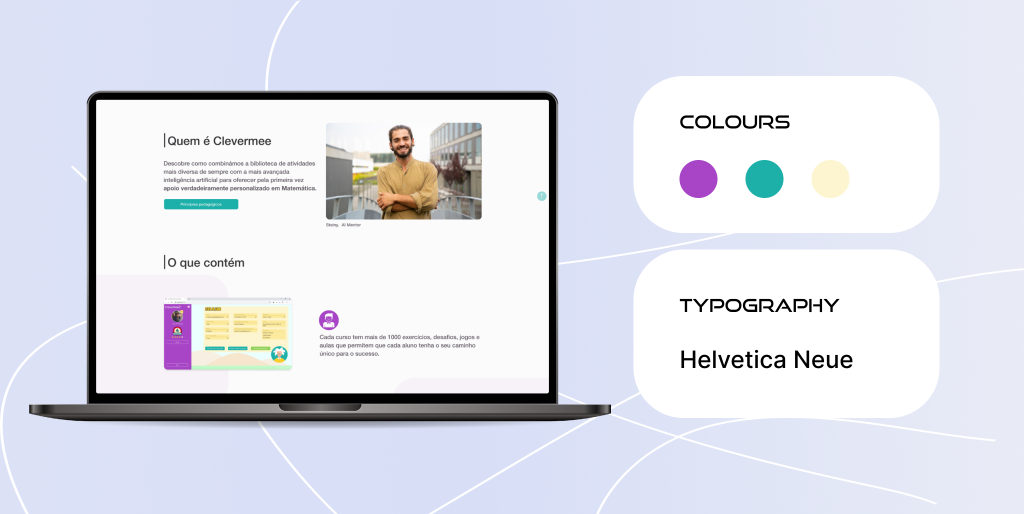 We developed the design for CleverMee based on the identity of the startup. Keeping to minimalism, our team has added trendy graphics to make it more original and emphasize the game form of learning.
If you have difficulty choosing your unique style, our designers will help you decide and stand out from the competition.
Add media content
The BramblingTech team used platform images, team photos, and graphics. It allowed us to visualize the platform functionality, inspire more trust in the startup among parents, and structure the content.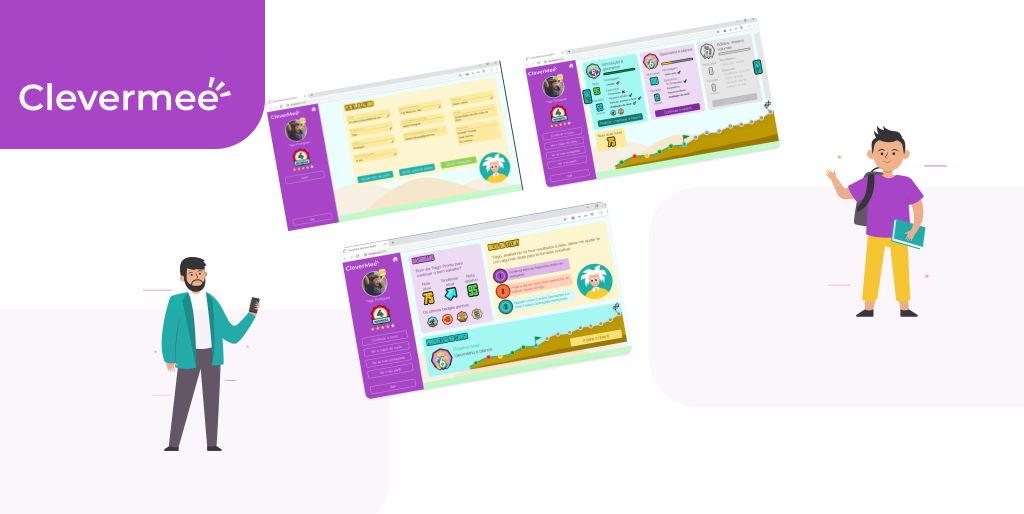 All graphic elements are created in the brand style and use corporate colors to make the design even more original and memorable.
Make it responsive
Adapt the design to mobile devices so that it always remains convenient and a potential client can explore it anytime and anywhere.
When creating a new website, we always make it responsive. When you are developing an educational platform, this is especially important. Parents are often very busy and don't always have time to search through the computer. They can explore such services in transport, cooking, or playing with children. Try to always take into account the behavior of the target audience.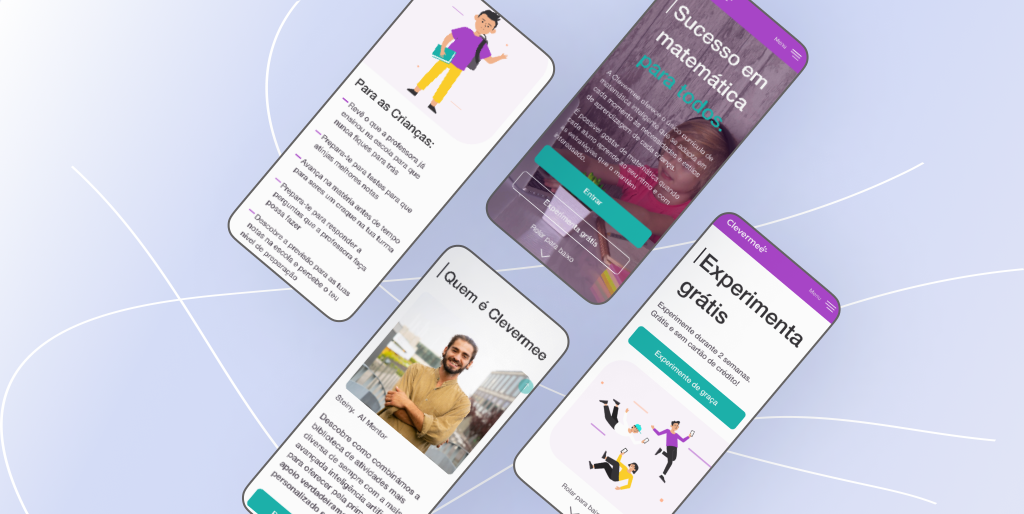 ClerverMee's website is responsive and well-displayed on all devices. BramblingTech ensured that the content looked equally good on different mobile devices, and users could make payments from their smartphones and tablets. 
Simplify the navigation
Place buttons in convenient and familiar places for the user. In the case of CleverMee, we added them to the header menu and on all key pages. The visitor can also easily find any site section in the header or footer.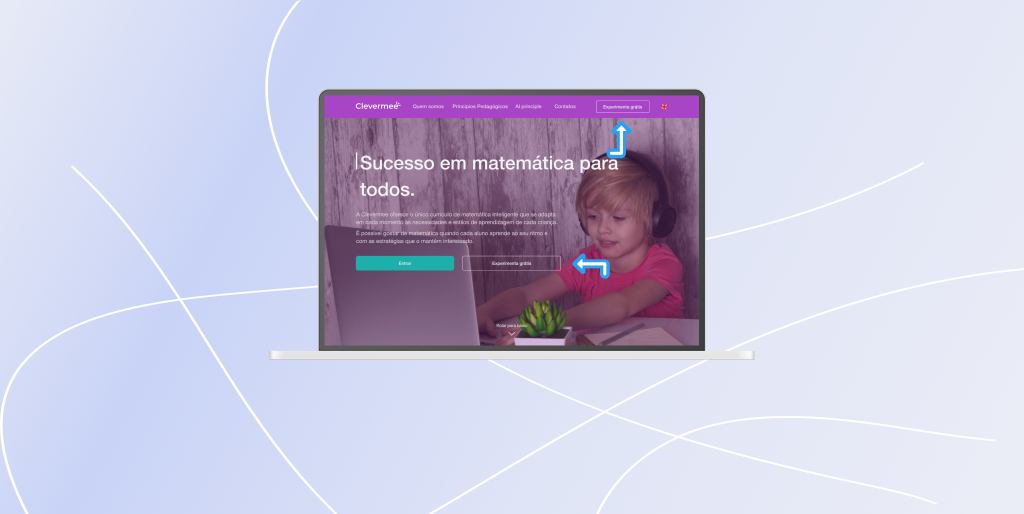 Define the main target action and use it on the buttons.
Choose a reliable payment system
Our team used stripe to accept payments because it is a reliable and secure gateway. It allows you to accept payments from all over the world and offer different methods.
Summing it up
Before developing a learning platform, analyze your target audience and competitors. Understand what they need. After analyzing the market, you can choose a business model.
Define the product MVP and find the team. You should create technical specifications to save money and speed up the development process. Prototyping will help you test your project with real users.
Avoid the most popular mistakes: lack of a mobile version, analytics system, functionality for reviews and awards, etc. Clients will trust you less if they find bugs on the platform, so test the service thoroughly. Leave you the opportunity to one day scale your project.
Do you want to create a learning platform or a website that presents it? But you don't understand where to start or want to know how much it will cost? Leave your application, and we will help you answer all your questions.