Can a blog help you attract customers? In this article, we will discuss how to improve your content strategy to achieve your business goals. If you are still creating your publications chaotically or feel lost about where to start, carefully read our recommendations.
Why does your business need content marketing
According to statistics, 70% of users say that content brings them closer to a product or brand. If you're not using this approach yet, or haven't put together an effective scaling strategy, you're missing out on many opportunities to increase traffic and conversions.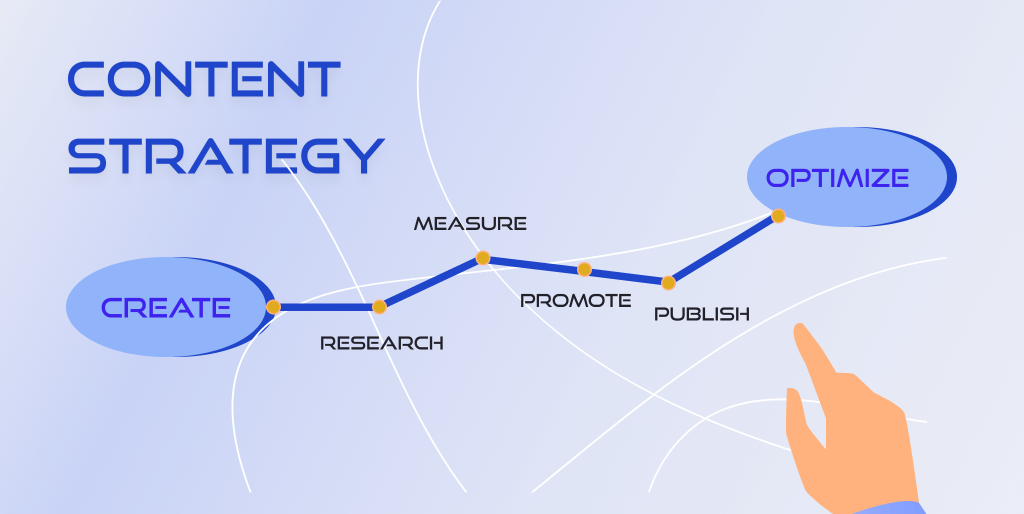 Content marketing helps build trust with buyers and prove your expertise to them. It means you will reduce the time and cost of the sales process. The consumer will be more open to asking you for an offer because you have proven your reliability.
Not all businesses benefit from content marketing. Because you do not have a clear plan and vision of what to do. You should correctly strategize, define and communicate your core brand values, and stimulate consumers to perform several actions if you want to succeed.
What is Scalable Content Production?
Scale content marketing does not mean writing more articles. The task is to improve and expand them to attract more customers and do it better.
If you create a lot of posts without a clear strategy, you will be creating content for the sake of content. And it will not help you increase sales. Do you understand that?
Remember that Google primarily evaluates user behavior. The search engine aims to provide relevant content and retain users. Therefore, you need to get them interested and involved so that Google shows and promotes you more often.
You should clearly understand why you are creating each post. Define what its purpose is in the context of your strategy. Otherwise, you will not be able to get visible results.
5 steps to prepare a scalable content marketing system 
Forget about acting chaotically if you want to achieve your marketing goals. Implement a few steps to help organize and structure the content generation process.
Expand your team
Whether you created content on your own or had a small team, you need to hire additional resources to scale. Depending on the volume of work, you will have to attract more specialists, such as:
copywriters;
editors;
marketers;
content managers;
designers, etc.
You may involve experienced specialists in your company who interact with clients. Their consultations will allow you to use their experience and make your articles more valuable and unique.
If you can't hire a lot of people, find reliable contractors. Choose with whom you want to cooperate – with freelancers or an agency. Explore our article, where we compare these two collaboration opportunities.
Set new goals
Determine the business goals of the company. Before creating a content strategy, think about what is important for your business now and why you want to scale it. Are you planning to launch new products or services? Do you want to attract more customers or reach more segments? Write specific results that you are going to achieve.
Choose content formats
Review your target audience analysis and decide what you can provide to viewers. If you haven't analyzed your customers yet, do it. Otherwise, you will fall into the trap of many entrepreneurs. It will be difficult for you to come up with new content ideas. And you may also face the disappointment that it does not bring you results.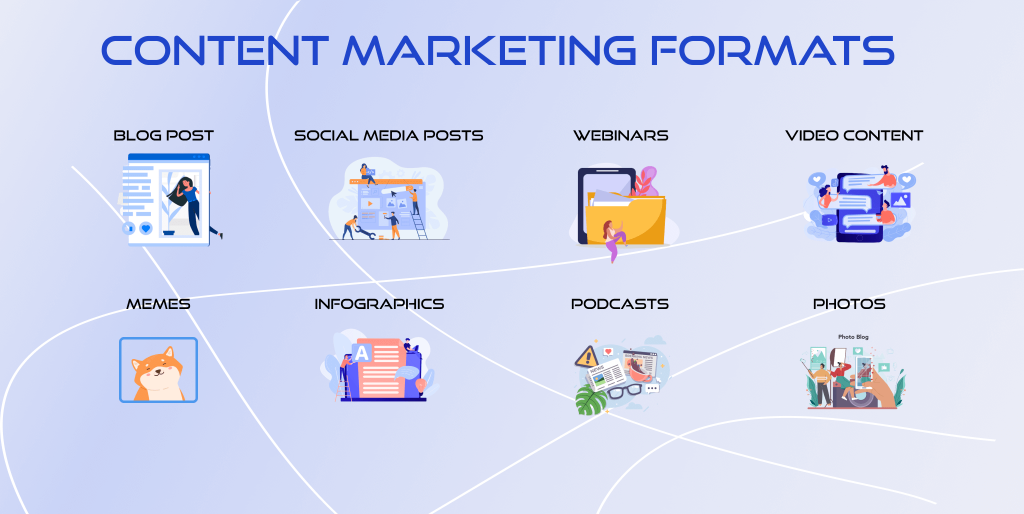 Let's imagine that you were creating only tutorial articles on your blog. But perhaps now you are ready to make video content, full-fledged guides, webinars, or tutorials. New formats will allow you also to scale and get more visitors.
Consider also the skills and employment of your team. It makes no sense to cover the YouTube platform if you do not have specialists who can work with illumination, editing, writing scripts, etc.
Make sure you clearly understand the purpose of each content piece. Always ask yourself questions: "Why am I writing this article, creating this video or tutorial? How will it help me to reach my goals?"
What popular types of content marketing formats can you use?
Blog Content Marketing
According to statistics, websites with quality blogs get more than 95% of links to their pages. It means you will be more likely to appear in the SERPs than your competitors who do not use a blog. You will also increase traffic to your website.
Don't write about everything. Choose topics related to your products and services. Don't make the mistake of most companies by creating generic articles that don't set you apart from the competition. Share your experience, cases, and customer stories by providing high-quality expert content.
Set a goal to give your target audience valuable information. Users need to know how you can be useful and what problems to solve for them.
Infographics
Create high-quality infographics that people will want to share and show to others. This type of content helps visualize complex data and relationships, making them easier to understand.
Infographics are not suitable everywhere. You don't need to insert it anyway. But if you learn how to use it at the right time, you can get more engagement and distribution for your content.
Remember that its main task is to simplify information and not confuse users. The data must be accurate and truthful. Add infographics in pictures and videos to social networks and articles.
Podcasts
If this term is new to you, podcasts are audio blogs about specific topics you can download or listen to online. This format is similar to radio, except you choose what you want to play and when.
Many people like to follow podcasts because they can listen to them and do something at the same time, like cooking, driving, or running. Their popularity has grown so much that you can find a podcast on almost any topic.
How can they be useful for your business? You can become a point of contact for clients and build trust in your expertise. As a result, when they have a problem in your area, they will want to turn to you rather than some stranger. In addition, this is a great way to increase your brand awareness and collect more data about potential customers.
To run podcasts, you need a laptop, a microphone, a mixer, recording software, and a pair of noise-canceling headphones.
Video content
According to Semrush research, video is the most successful content format. You can film lessons, do product reviews, organize webinars and online conferences, and many more.
It allows users to see what you want to offer them, show your professionalism, and build an emotional relationship. It is a great way to get remembered and get the viewer hooked on your brand.
You can add a video to the site, use it for social networks or launch your own YouTube channel.
To create high-quality video content, you will need a good camera (it can be a smartphone camera), a microphone, lighting, and a tripod. It is the minimum set you should buy to make videos indoors.
Social media
Social media is a great way to increase your brand awareness and build communication with potential customers. In addition, you can use them as an additional lead generation channel and sales platform.
Many brands mistakenly think that social networks are only suitable for B2C companies. But it's not. B2B businesses can also successfully use this content format. For example, IBM shares its history, products, employee videos, and other content on its pages. In this way, they build trust and credibility for their brand and reinforce corporate values.
Organize and systematize the stages of content creation
Define the stages of content development to control it effectively. If you think creating an article is just writing a text and publishing it, you will realize that you are investing more time and money in this marketing tool than in making profits.
What stages can you divide the content creation process?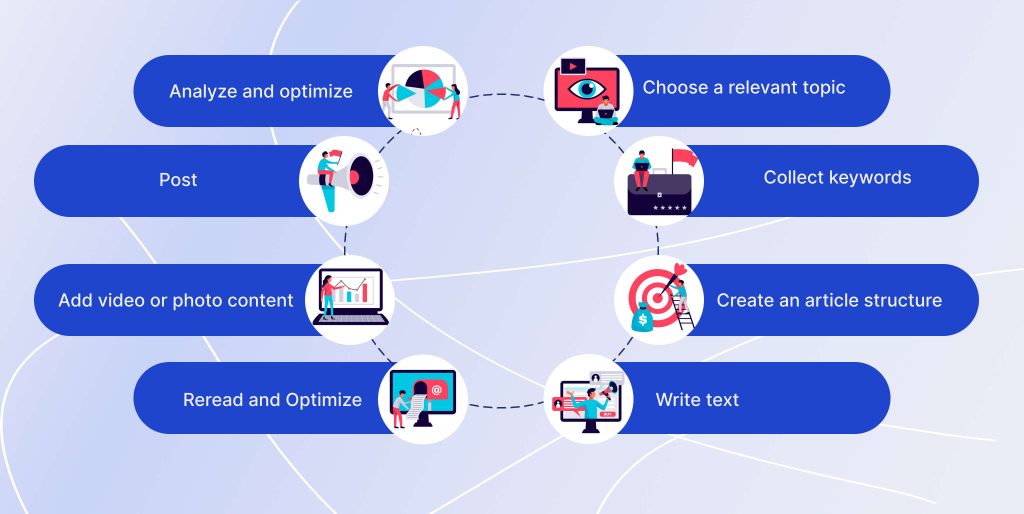 1) Choose a relevant topic
Ask yourself how well you know your target audience. If you don't understand what excites, interests, and causes problems in your niche, you can't effectively attract and retain them.
Analyze your customers and find out their pains, needs, and fears about your topic. Help them solve their problems. Use Quora and buyer surveys to determine post ideas.
2) Collect keywords
These are the words that the user writes in the search bar to find something on the Internet. They are one of the factors that influence your position in the search results.
Many tools allow you to collect keywords, such as Ahrefs Keyword Explorer or Serpstat. You can also check out our article on Top Ecommerce SEO Strategies in 2022. But it's best to hire an SEO specialist if you don't want to learn this profession.
3) Create an article structure
You should identify the main paragraphs of the text. They help you stay on topic and make reading easier for the user. Each article should have an introduction, body, and conclusion. The body is also divided into sections.
4) Write a text
Your task is to lead the client from the problem to its solution. First, just put all your thoughts on paper. Don't try to rate and edit at the same time. Feel free to make mistakes and write everything you want to tell. It will be great to add examples that visualize and explain your words. And only after that proceed to the editing.
5) Reread and Optimize
Postpone the article for a while. Then read again and remove all unnecessary, or vice versa, add what is missing.
6) Add video or photo content
To show clearly what you want to say, use pictures or videos. Graphs and diagrams will help readers understand complex calculations and visualize research. You can create images yourself using Canvas or Photoshop.
7) Post
Reread the text before publishing and link to other articles.
8) Analyze and optimize
Examine how users react to new posts and track interactions. Study analytics and make a plan to improve the results.
Implement content marketing tools
Select topics based on the analysis of the target audience and goals to draw up a content plan. Use tools to help you schedule posts, analyze content, and automate the posting process.
Several useful software
Loomly
MarketMuse
DYNO Mapper
Content Snare
Notion
Simplify routine tasks to scale faster. The tools will help you plan your articles, collect analytics, and optimize your strategy.
How To Improve Organic Search Rankings With Content Marketing
You need to constantly update the site and social networks with relevant content that will attract new users. Implement keywords that users write to find information about your products, services, or related issues. Thus, you will appear in search results more often and save on paid advertising.
Add images, videos, and infographics to your articles and posts and optimize them for SEO. So you can cover more queries on different sites.
Summing it up 
Scale content marketing does not mean publishing more posts. First of all, you need to optimize your strategy. Then you should improve and increase the amount of content based on business goals.
Decide whether you need to expand your team to complete the tasks. Define new goals and choose content formats that suit you. You should also systematize and streamline your actions.
We advise you to determine the main stages and stick to the order. To analyze and automate some processes, use optimization tools.