This article is perfect for you if you are a newbie and would like to create your own website. The problem is for those who once fancied an idea, but put it on the to-do list. What's more, you often search for requests in Google: "How to come up with your domain", "To make the design of the site…", and "What is a host?.." cause even more difficulties. Then our job is to help you understand, step-by-step guide explanations for "kettles" about the site and other niceties.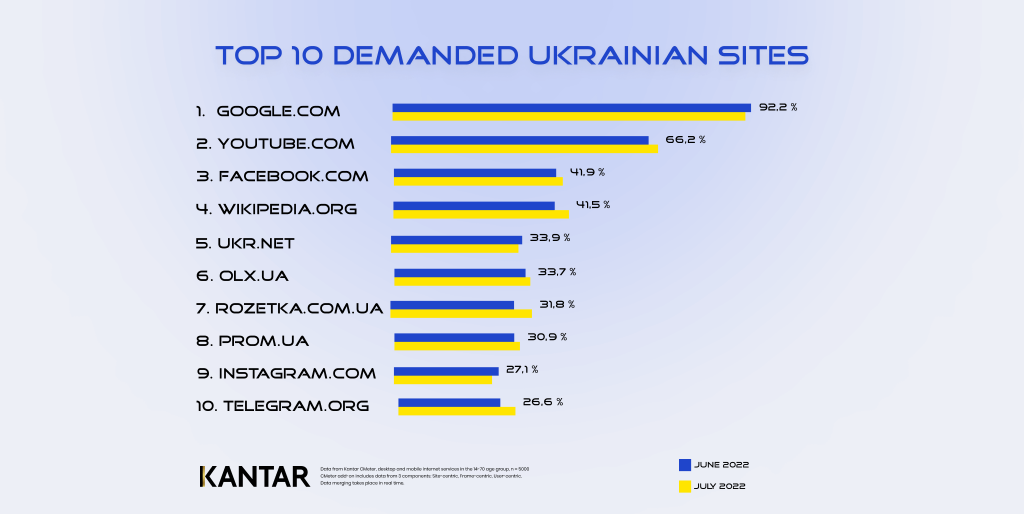 Research from the British company "Kantar Ukraine", which specializes in marketing research, published in August 2022 the most trending sites. The top three are Google, YouTube, and Facebook, with a very low-volume and primitive interface. Still, think you don't need a website? It will be easy, try it.
Why do you need a website? Idea, Desire, and Act
"I want to have my own website, but…" Of course, researching an idea for the site is the most critical step. You should find your target audience, and offer them "yourself", the product or service you provide. Make your production as interesting as possible for you: if you are an artist, think about selling pictures, if you are a plumber, imagine yourself a master of all hands, or even if you are an ordinary bank clerk — why not create a blog about "difficult" numbers?
Just have a good breath and see the dazzling vibe
You can certainly scoop inspiration from various sites like Canva, Behance, Awwwards, Designhack, and others. However, copy from A to Z already finished and popular product is not worth it. First and foremost, your site needs to be a unique original, not a miserable copy. Then it should be remembered that copyright infringement can be followed even by the court and different fines.
Collection of requirements: How easy is it to coordinate with the performer about your idea?
Thus, now, how do you trust your fantasy and "brainchild" with a performer? To avoid spoiled expectations, experts recommend that you should write down important points for you. This is commonly referred to as an abbreviated test task, which is prescribed by the customer.
For example, specify the following points:
Information about you, a business, or a company
Availability on different devices: phones, computers, tablets
Structure of your website: you can even draw it
Technical requirements
Content details
Design style
Animation
Ok, Google: "How to design a website in 2022?"
Nevertheless, don't forget that good clothes open all doors not only for humans. In our case — is the appearance of your website. The answer to your question is naturally in our checklist. Good called design, which is comprehensible for the target audience, the illustrations and photos are not represented pixels. And you need to remember that the headset and pin create a holistic font combination. Both the items and the content on the site are on a grid. The overall attention of the visitor takes the main points, etc.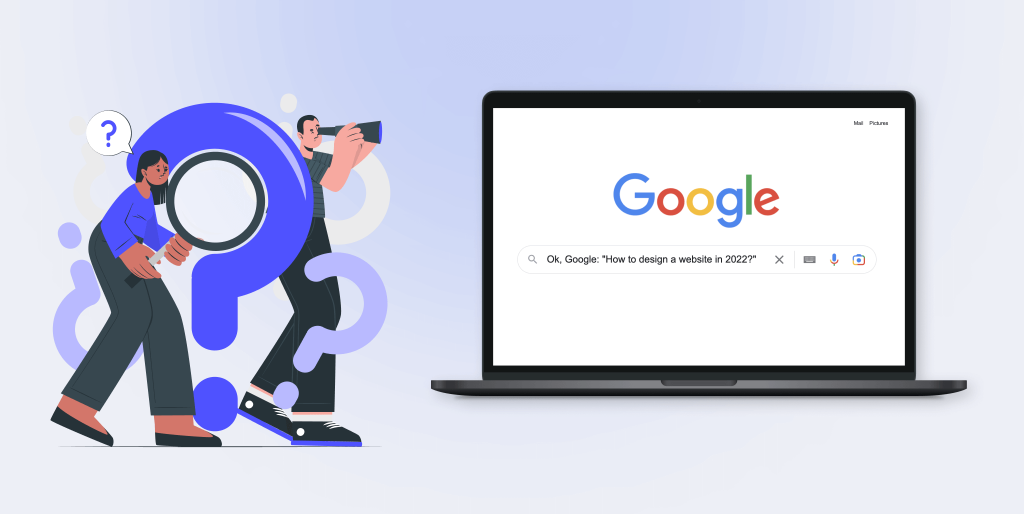 What can we say about the right colors and authentic web design styles in 2022?
Freehand: We are serious right now, you just need a pencil or a marker. You don't have to be an artist to include a brainstorm and project your ideas on paper or cork board. This style rather resembles sketches to design, like a draft.
Beautiful typography: Huge and beautiful font. The style implies the masterpiece of texting.
Geometric: Abstraction, shapes, and clear lines. If you suddenly want to shape with a concise geometric figure, then this is your "stop".
Minimalism: Simple, alluring, and enjoyable. It is free of unnecessary details.
Brutalism: Unmanufactured, raw, and a little random. Imagine, for a moment, a site from the '90s that consists of visible blue links and monospaced headsets without any design shading, or gradients. Have you seen the "Salute" hotel building in Kyiv? Here's something like that.
Realism: Superficial, clear, and natural. What you see is what you get in the result.
Modern: Natural resources, plant motifs, and soft colors. Although the term is often used to refer to a whole stream of new tendencies, the transition from one era to another is alternating.
Avant-garde: Moving away from tradition, a new way of looking at boring things. Creative solution for experimenters.
Vintage: The taste of the "outdated" era. If you'd like us to remember you with ancient fonts, and signboards, with elements of the old radio and TV, then look at it.
A brief look at some of them. In fact, these styles are much more, you can read more about them in our article. 
Web development and testing: In human language
Web development is a process of site creation. Roughly speaking, the site has its own body, which needs to be shaped, turned on functionality, and tested. There is no doubt that we must know and understand the parts of the frontend and the backend. So, what is it?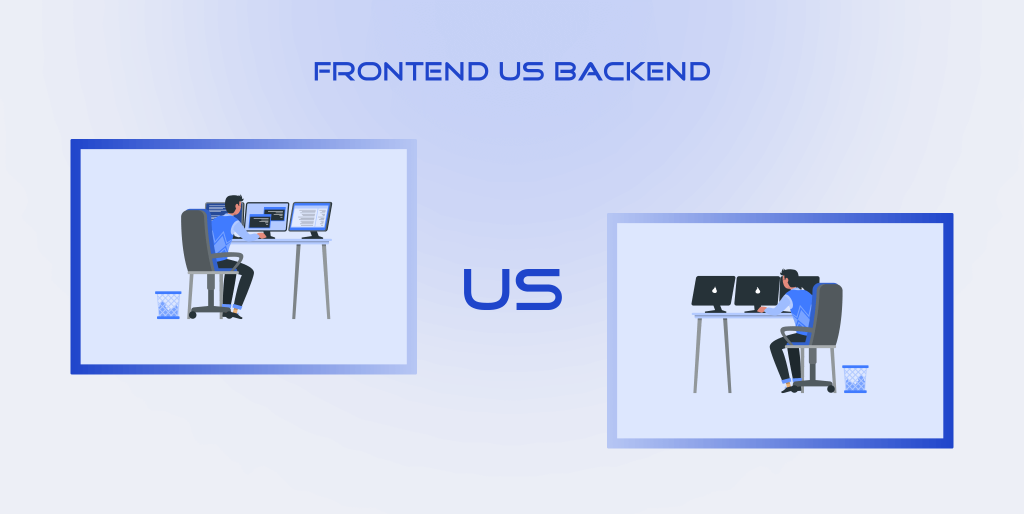 The first one is frontend
This is the part with which your client or visitor can interact: from pressing a button to swinging a roller mouse. Frontend includes the display of functional tasks, the client-side user interface, and the processing of user requests. The development process involves creating a public part of the web application with which the user contacts and the functionality is usually performed on the client side. Who's doing all this?
Loyal developer's assistan
This is a frontend developer that places every button, icon, text, and window in its place, without overlapping each other, and looked holistic. In addition, they must fulfill their direct purpose, namely to carry out actions. For example, the button "contacts" opens the window of communication, and "record" — switches to the window of enrolling. Loyal developer's assistants are JavaScript, HTML (HyperText Markup Language), and CSS (Cascading Style Sheets).
And the second one is backend
How do you feel when you're dealing with things you can't see? Yes, like something abstract and self-explanatory. Therefore, backend development is considered more difficult in programming. First, you need to get and process the data from the user, then search the database, get a response from the server and eventually translate the information to the desired look. The backend developer must be friends with Java, PHP, Python, Ruby, and Perl.
"front" & "end"
After successful joint work with "front" and "end", comes the final stage of website testing. To determine whether the site is convenient, how clear the logic of the site is, and whether the visitor can quickly find the answer to his question. It sounds so simple! I'm going to be a developer. Take your time, the step includes the following processes: site learning, functionality checking, user interface, compatibility, security, and performance testing.
How to fill in the meaning of your website?
Got the engine worked out, so what to fill the site? Content is a collection of materials that consists of a visual part of the site and general information: pictures, video or audio, infographics, tables, meaning, text, buttons, and hyperlinks. You can divide it into text, multimedia, or interactive content. It is often recommended to optimize under keywords.
Add your Content
These are the very queries you want users to find your site in search engines and increase traffic (time spent on the page). The copywriter investigates which terms should be used in the text pages of the site, in headings, metatags, menu items, files, and image descriptions. The text should fully reveal the intent of the audience. However, if you overdo the keys, the search engine will perceive it as spam. Better not do that.
Domain and Hosting: from A to Z
How often have you heard the word domain in your daily life? We think not. Especially if you reach out to the computer on "you". Everything should be clear soon. If the domain is your site name, then the host is where your site data is stored. Picture in your head a bookshelf and your desire to find the "right" book. Then the wardrobe in your library is the host, and the book name is the domain.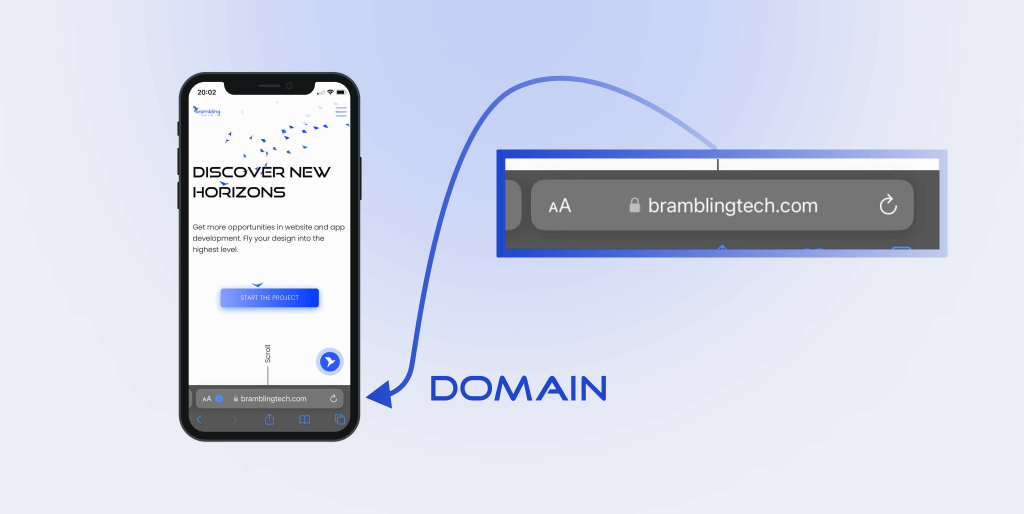 The invention of domains has greatly facilitated our digital life. In the past, we would have to memorize the digital IP address, but today only a nice sentence, or even one word. Which variant is better to read? 9.999.99.99. or bramblingtech.com? Of course, it is easier to remember a person's name than his or her phone number. Only instead of an address book, we have an address bar. That is why it is so important to come up with or buy a good domain name and choose a host.
Publication: Advertising & Monetization
As a consequence, are we setting up a website? Site files are placed on the server of the provider (hosting) and make the necessary settings. However, at this stage, the site is still closed to visitors. Once you have a host and domain, you can figure out how to put a website online. This can be done either in the hosting control panel or in a special program to work with files on the hosting. The next step is to download the databases, which you will protect with a password. Be sure to check how the website works: correct or not?
We mentioned earlier that traffic on the site is important. Is it time to think about your own benefit?
Monetizing a website is the profit process of placing on its advertising content website. The visitor "brings" you money with his visit, but if there is too much advertising garbage, it is not good. In the best case, he will remain on the page but will activate a program that blocks any type of advertising. At worst, due to over-spaming, he will leave the page and never come back again. Moreover, if he is not a single user, then the website traffic will fall, as well as the demand. Seo-specialist will help optimize this and place interesting audience content. However, you can do it yourself using various platforms like Seobility, Seo Tester Online, and Seo Site Checkup.
To sum up
In fact, each of the steps listed above is worth the end result. You can be wrong and not be an expert, but you can create an organic product by trial and error. Or at any time to contact specialists on full-fledged website creation. It's your choice.