Do you look for developers to create a website, online store, application, or another digital project? If you want to know how to hire a website developer, we have analyzed reviews and user commentaries about the most well-known platforms to search for programmers. Study feedback, scores, and portfolios and choose the best specialists.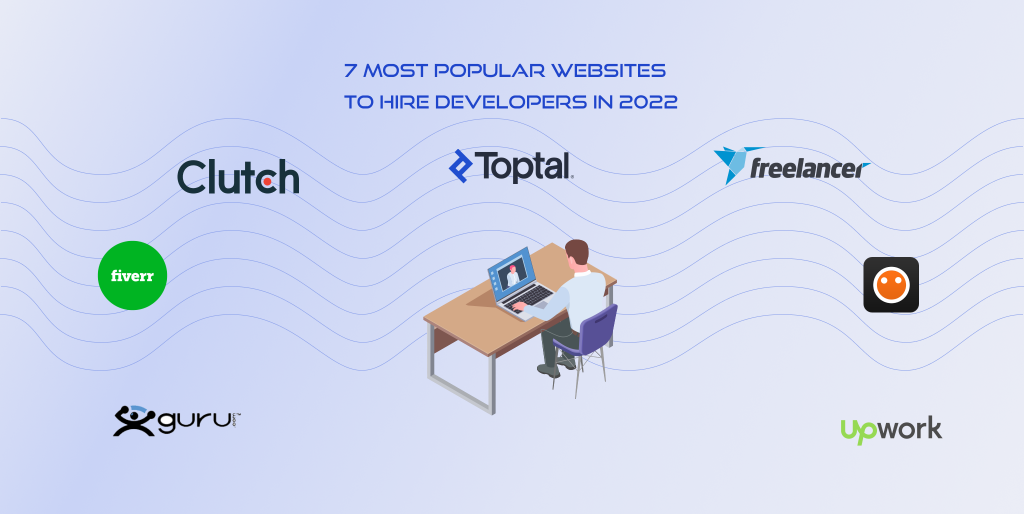 Upwork
Upwork is one of the most popular websites to hire a developer. This platform offers more candidates than other freelance services.
Upwork works on the principle of bidding. The employer can offer any price for the work they are ready to pay. The freelancers choose the appropriate option and vice versa.
Advantages
A large choice of specialists in different areas
More than 12 million agencies and freelancers use Upwork to find job opportunities. The filter feature is simple and convenient. Choose a category and click on the required skill. 
Secure payment system
Upwork ensures safe transactions by freezing your money. Freelancers get the payment when they complete the task.
The feedback option 
You can easily study what clients say and think about this specialist and how they evaluate their work.
For example, we also have an Upwork account and a lot of positive feedback. If you're looking for developers, designers, or content managers, follow the link to check them out.
Flexible pricing
Set the hourly rate in the filter menu and choose a candidate according to your budget.
Identity verification
The user can go through the authentication process by providing a valid ID and completing visual verification. After that, the account owner will get the "Identity verified" badge.
Simple to use 
The website is intuitive and user-friendly. You can create a project or search for a specialist in the appropriate category. Upwork also offers a recruiting service if you want a professional to find suitable candidates according to your requirements.
Disadvantages 
No verification of the specialists competence
The platform does not provide a serious system for checking the qualifications of candidates. Anyone can become a freelancer and offer their services. You may meet many non-professionals. Therefore, carefully study reviews and portfolios.
Freelance commission
Freelancers can ask for more money than on other platforms as they also have to pay a commission.
Lack of quality customer support
Many Upwork users complain that the support team takes a long time to respond, is not always competent, and often does not show a desire to help you solve your problem.
Fiverr
Someone thinks that it is the best website to hire developers. Unlike Upwork, only freelancers have access to publish their candidacy and set a price for their services. Employers choose specialists on the platform but cannot create vacancies and offer their rates.
Advantages 
Many specialists
You will find freelancers of all skill levels, from beginners to experts. The cost of services also varies and can start from the lowest. This platform is also full of specialties in different fields. That is, you can easily hire not only developers.
User rating system
Every freelancer has a rating. You can also read reviews and see which clients they have worked with. It is useful to learn about whether employers come back to this specialist.
Simple interface
You can easily find specialists at Fiverr. Enter the name of the service in the search bar or go to the appropriate category.
Search without registration
You do not need to register to view freelancer profiles and portfolios.
Fixed payment
You pay a fixed price per project. There is no hourly payment on the platform, which is often more expensive.
Secure payment
The freelancer will receive the money after you confirm the successful completion of the task.
Support service
The Fiverr team answers user questions and helps solve their problems. If they discover fraudulent activity, they will respond to it immediately.
Disadvantages
No competency assessment
Any applicant can create an account and offer their services. You have no guarantees that they will provide you with quality results. There is no system for checking the qualifications of candidates. So you risk choosing a beginner. Therefore, we advise you to conduct at least a short interview before starting cooperation and avoid specialists with low prices.
Only short-time projects
If you are looking for a developer for long-term cooperation, Fiverr is unlikely to suit you because the platform does not have hourly payment functionality.
No refund to bank card
If you want to cancel the transaction, Fiverr will transfer your money automatically to your account balance. You can pay for services on the platform, but it is not possible to withdraw funds to a bank account.
PeoplePerHour
PeoplePerHour was founded in 2007. And their team knows how to hire a remote employee quickly and easily.
Advantages 
Wide pool of specialists
Developers, designers, marketers, and many other experts are looking for projects on this platform. You can search by technologies if you look for a programmer with a specific skill set.
Free project creation
Create free vacancies and pay only when you start working with a freelancer. There are no initial fees for using the service.
Several ways to find specialists
Use the search bar or choose the appropriate section to find a developer or other experts. You can also create a project and set how much you are willing to pay a freelancer to receive offers from job seekers.
Funds protection
The money will be transferred to the specialist's account only when you confirm that you are satisfied with the freelancer's job. If applicants do not fulfill all the conditions, or you are dissatisfied with the results of their work, the support service will help resolve all disputes and disagreements. Until then, your funds will be safe in your PeoplePerHour account.
Freelancer skills assessment
PeoplePerHour uses several methods to measure applicant performance: rating, reviews, and the CERT ranking algorithm. This indicator includes such metrics as the quality of their work, interaction with employers, retention, and trust. If you want to hire a qualified developer, you should look for freelancers with CERT 4 and 5.
Project Progress Tracking
You can see at what stage of the project the developer is whenever you want.
User-friendly interface
Navigation is logical and simple. You have filters and sorting.
Disadvantages
Problem with tech support
PeoplePerHour has poor technical support. If you have any difficulties, you will most likely have to solve them yourself.
Lots of spam and scammers
Since anyone can post their application for free on the website, many scammers use this advantage to create fake accounts and take orders.
Delay of payment
Some users talk about delays in payment and the inaction of the support team in these matters.
Freelancer
Freelancer is a popular platform that helps hire developers for a startup, and small, medium, and large businesses. More than 60 million job seekers and employers use their services.
Advantages 
Free Job Posting
Post your vacancies for free and attract more job seekers.
Privacy feature
Your vacancy will be hidden from search engines and unregistered users if you pay an additional privacy fee.
One-Stop Recruitment Platform
This service offers a wide range of talent, from translators to developers.
Suitable for short and long-term projects
Several payment formats are available to you – hourly and fixed payment for the project.
Payment protection 
Like other services, the Freelancer transfers money to the account of a specialist only after the successful completion of the project.
Recruiter service
If you don't want to spend time looking for a developer, pay a recruiting expert to help you select candidates according to your needs and desires.
Disadvantages
Fraud Risk
Fraudsters take advantage that there is no selection and evaluation of users.
Selective Dispute Resolution
This option is available only for Milestone payments and By Hour payments.
Guru
Guru is a platform where you can hire a website designer, developers, content creators, and other professionals.
Advantages 
Secure payment feature
The service protects you from scammers by holding funds until you indicate that the work was done well and you are satisfied.
Many payment methods
You can choose among such payment solutions: credit/debit card, PayPal, eCheck (U.S. only), and wire transfer.
Project management tool
The platform offers functionality to track project progress, communicate with applicants, send files, and control time spent on tasks.
Disadvantages
No vetting process
Nobody checks the professional skills of applicants. In addition, the reliability of the ratings is questionable.
Weak fraud protection
Guru's clients complain that scammers often use the platform. Therefore, you have to spend more time looking for competent experts.
Outdated interface
Compared to alternatives such as Upwork and Fiverr, Guru's design seems less attractive and user-friendly. If you prefer modern solutions, you may feel uncomfortable choosing this tool.
Toptal
Toptal is known for the fact that only verified experts can register on the platform. Users are required to pass the evaluation process and confirm the level of their knowledge and skills. You have access to professionals in various fields, from developers to financial advisors.
Advantages 
Strict verification process
The selection takes several stages, so only top experts pass all the tests and interview successfully. Platform employees evaluate the technical skills and personal qualities of freelancers, selecting the best ones. The whole procedure takes more than a month.
Expert support
Toptal experts will help you find a developer based on your requirements and expectations.
Secure payment
The freelancer will receive payment after you confirm the successful completion of the project.
Disadvantages
High costs
Using Toptal, you work with top specialists. But their services, like platform fees, will cost you more than other solutions.
Little choice
Due to the careful selection of applicants, you will have to choose from a narrow circle of specialists.
Not suitable for small and simple projects
It makes no sense to hire a highly paid and very experienced specialist for short-term projects with simple functionality. You will pay an initial fee of $500 for developer services as well. As a result, it is likely to be disadvantageous. If you have a small budget, it's best to consider other options.
Clutch 
Clutch is not like the other platforms that we have analyzed above. It is an independent service that collects real customer reviews about the brands registered on its website. Ideal if you are planning to hire a development team or are looking for agencies.
Advantages 
Data reliability
Reviews are collected and checked by independent experts, which excludes fraud.
Disadvantages
No functionality to post a job
You do not have the functionality to create a job vacancy like you can do on freelancing platforms, only view company profiles on the website.
Higher cost
Since the service only provides information about businesses, hiring employees will cost you more than working with freelancers.
How to select the best source to find a developer 
Searching for a developer can be a daunting task. A few tips to help you successfully cope with this challenge.
Define your budget 
Please note that some services charge a registration fee in addition to the commission. Therefore, we advise you to carefully study the pricing policy. The services of top specialists and agencies will cost more. If you have a small budget, solutions like Toptal and Clutch will not suit you.
Choose Agencies or Freelancers
If you prefer to hire freelancers, it is better to select such options like Upwork or Fiverr.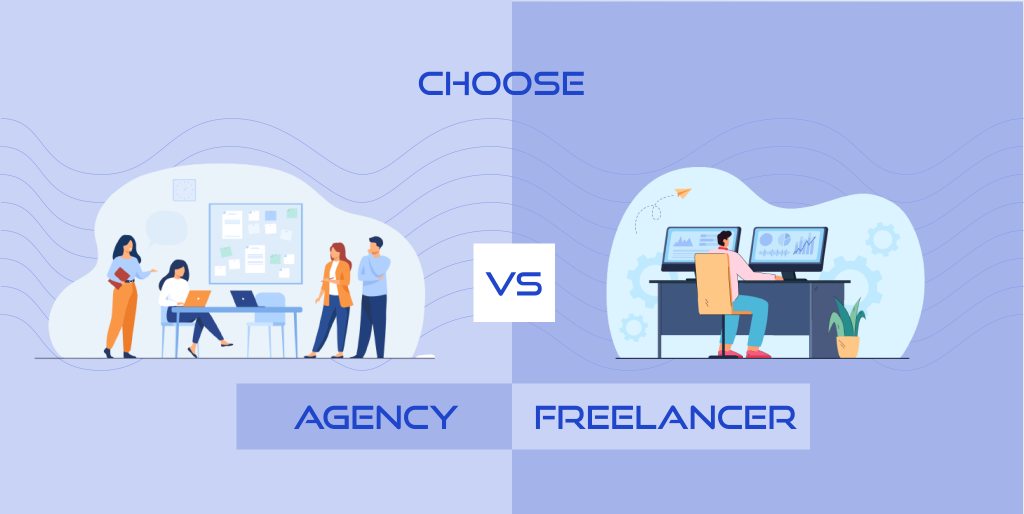 Decide if you need professional help
Some platforms offer recruiter assistance for those who want to save time and entrust the search for suitable developers to an expert.
Determine the complexity of the project and delays 
If you have a difficult and long-term project, you will need a service that provides an hourly payment.
Summing it up 
Each of these services has its advantages and disadvantages, so you need to thoroughly explore them and select the one that suits you best. Use our tips to be sure that it fits your needs.